Anybody who knows me well will know I've a thing for waterfalls. Rather, it's a lifelong obsession, one which has conferred many of my all-time favourite places and experiences.
When work is cognitively demanding, which it frequently is, my brain wakes me in the early hours problem-solving. To distract and soothe overactive neurons, I often look at pictures of waterfalls online.
Since December, I've been snowed under a complex public inquiry, which has involved a lot of midnight waterfall trawling. At one point, it occurred to me that I might help myself, and others who might appreciate their therapeutic properties, by putting some of the best in a single blog.
So here, over the next 3 weeks, are my Top 20 favourite waterfalls, together with a bit (sometimes more) about why I love each.
They're not ranked, but listed by continent from those with the least, to those with the most. Africa, Asia, N America and Europe this week; S America, next Friday, and my Top 2 (still in S America) the week following.
Fellow connoisseurs may ask where is Iguassu? Victoria? Niagara? Gullfoss? Where is Australasia (Wallaman, Jim-Jim and Sutherland came close)? Norway (both Mardalfossen and Langfoss were shortlisted)?
The answer is that I love many many many more, but these are my crown jewels. Enjoy!
AFRICA
20) Kalambo Falls, Tanzania, 235m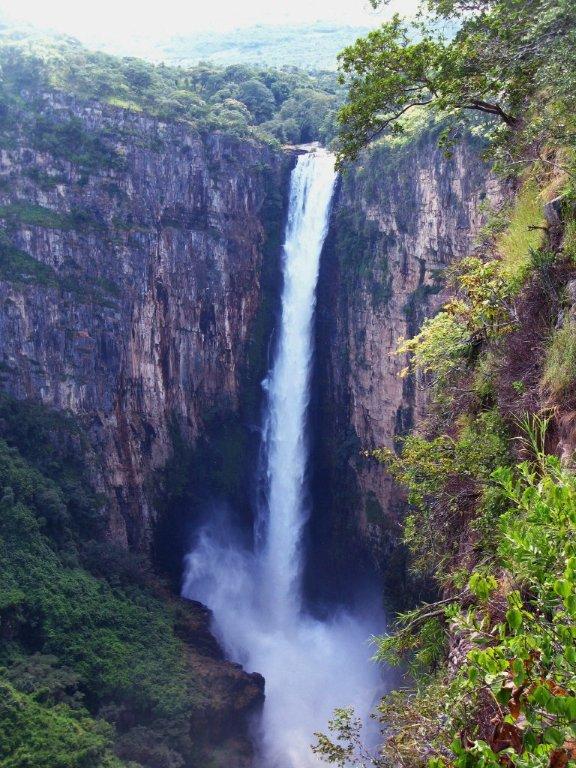 My favourite African waterfall, and the only one on the list. Lying just upstream of Lake Tanganyika on the Zambian border, it's one of the continent's highest uninterrupted falls and on a substantial river. It reminds me of that jungle escarpment where Weissmuller's Tarzan and the elephant's graveyard were found in the 30's black-and-white movie I adored as a kid. If I'd known about this fall when I visited Tanzania in the 90's, I'd have made the trek.
ASIA
19) Jog Falls, India, 253m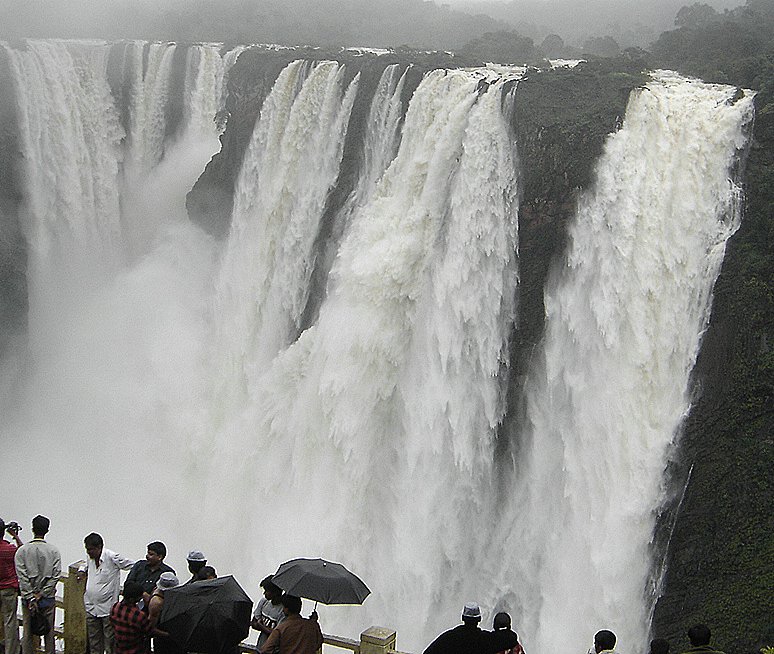 India's second tallest plunge and, in my view, Asia's preeminent waterfall. Sadly, now shackled by a hydroelectric scheme and ordinarily, a shadow of her former majesty. However, when the monsoon arrives and the sluices open, she has few equals. A mighty river hurling into a 1000ft chasm in four distinct falls with mythic names: Raja, Roarer, Rocket and Rani. Sooo on the bucket list.
18) Huangguoshu Waterfall, China,  67m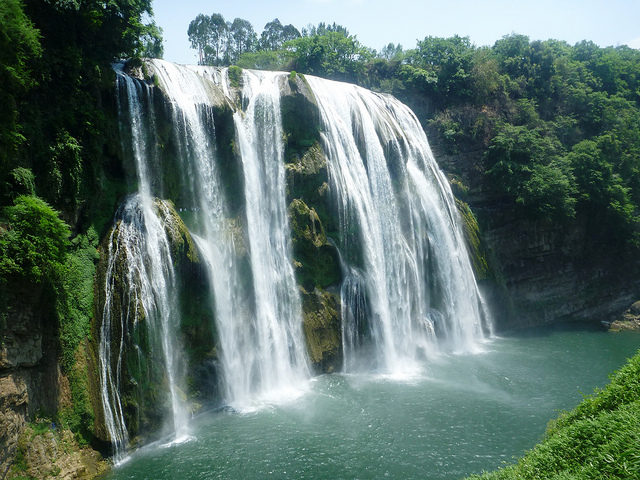 China's largest and best waterfall, and somehow, so very Chinese. A peerless combination of silk painting delicacy and jaw-dropping size. Look carefully and you can see weeny people in the cave behind the falling water. Gorgeous.
NORTH AMERICA
17) Lower Yellowstone Falls, USA, 94m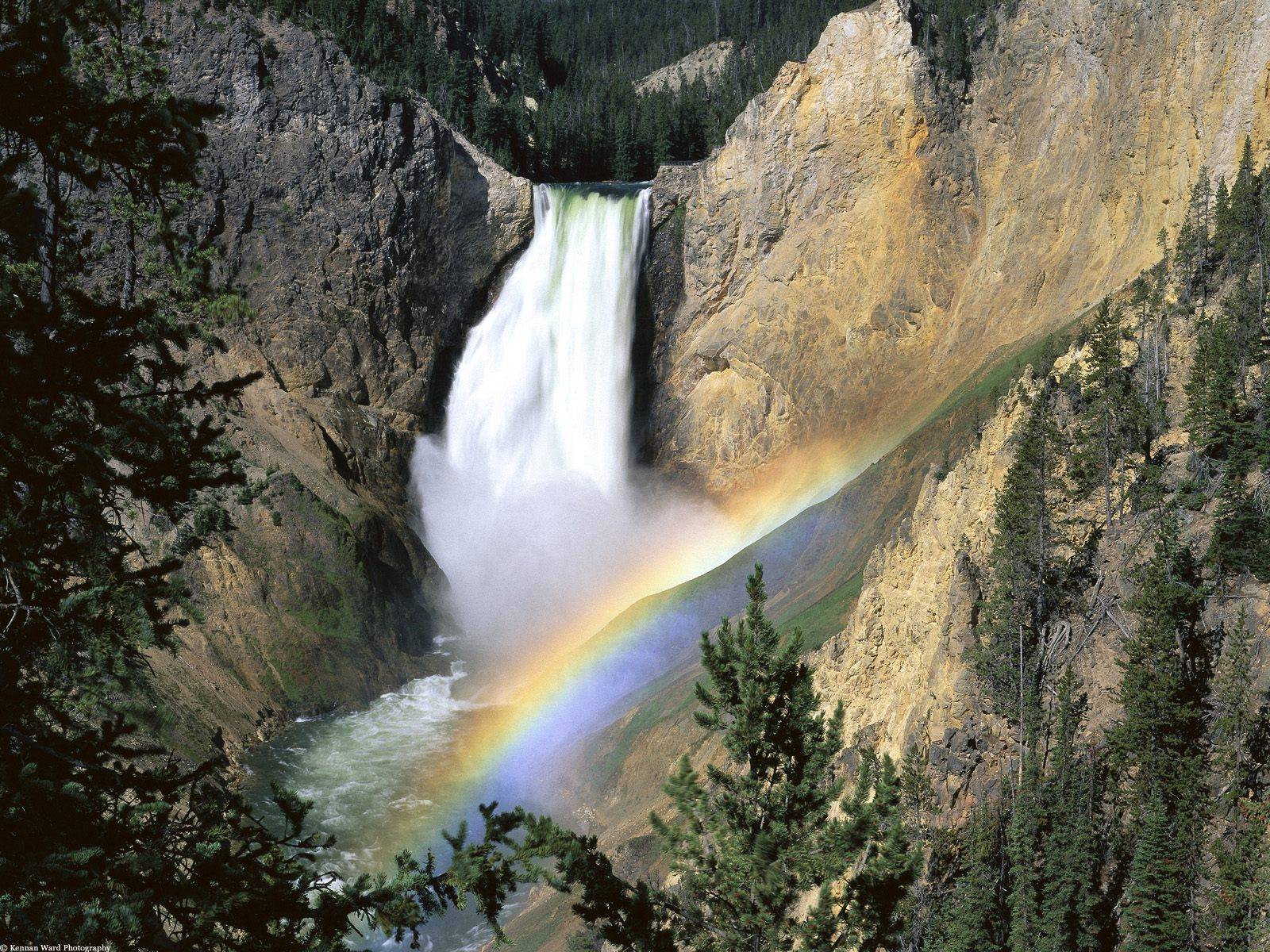 The seed corn. We visited Yellowstone when I was 7 and its otherwordly landscape and nature burned into my imagination. My Mum bought me a guidebook as a memento and I obsessed over it for months afterwards. If I was dropped into a remote region of the Park, I'm sure I could still get back safely as a result of poring endlessly over those maps and descriptions. But it was this picture I dwelt upon above all. It hadn't seemed a big deal at the time, but that combination of raw power and natural beauty must have resonated deep.  It went on to become the first entry in a waterfall scrapbook, which I maintained for the next few years (I still have it!). The rest, as they say, is history.
16) Havasu Falls, USA, 90m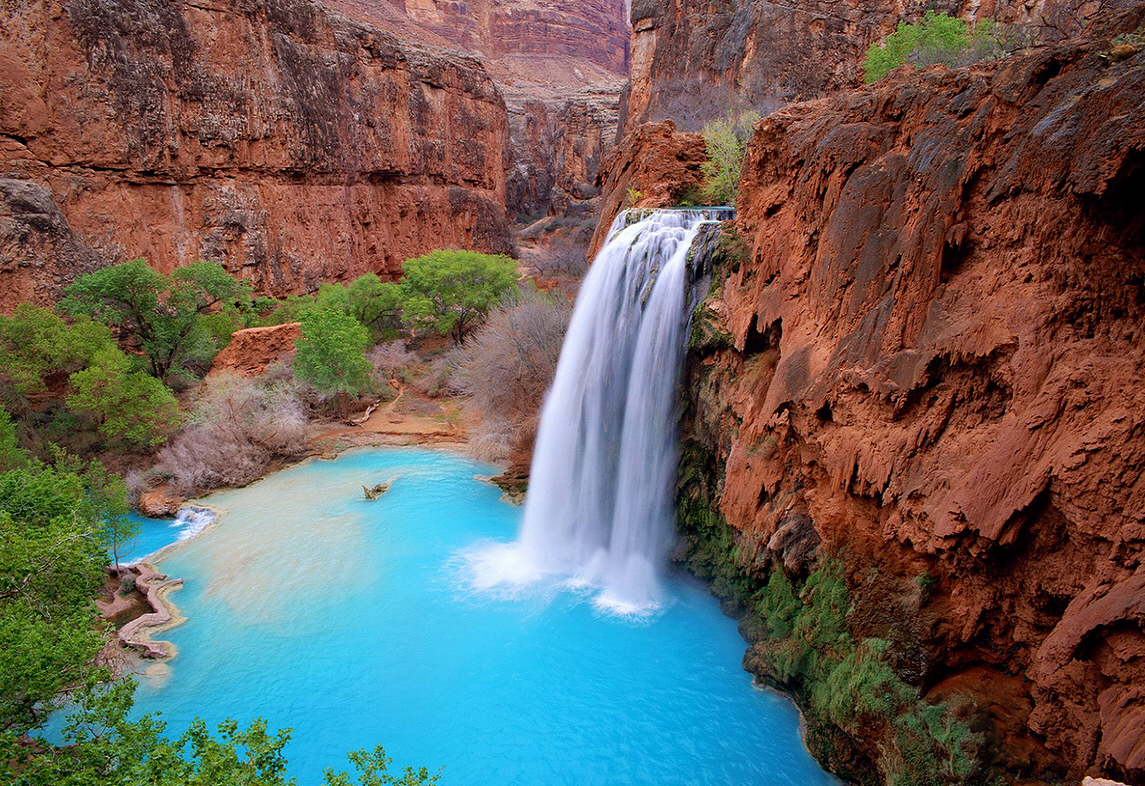 Not particularly tall or powerful. However, since reading an article in an old National Geographic as a kid about the Havasu Canyon – a remote side-street of the Grand Canyon –  it's lodged in my head as a Shangri-La. Through a narrow cleft, half-hidden in the desert and only accessible (at that time) by mule, the author traveled to this secret oasis, home to the Havasupai Indians and five fabulous waterfalls. This one's the centrepiece (although Mooney Falls comes very close!). When I was 8, there was no place I'd rather live.
15) Yosemite Falls, USA, 739m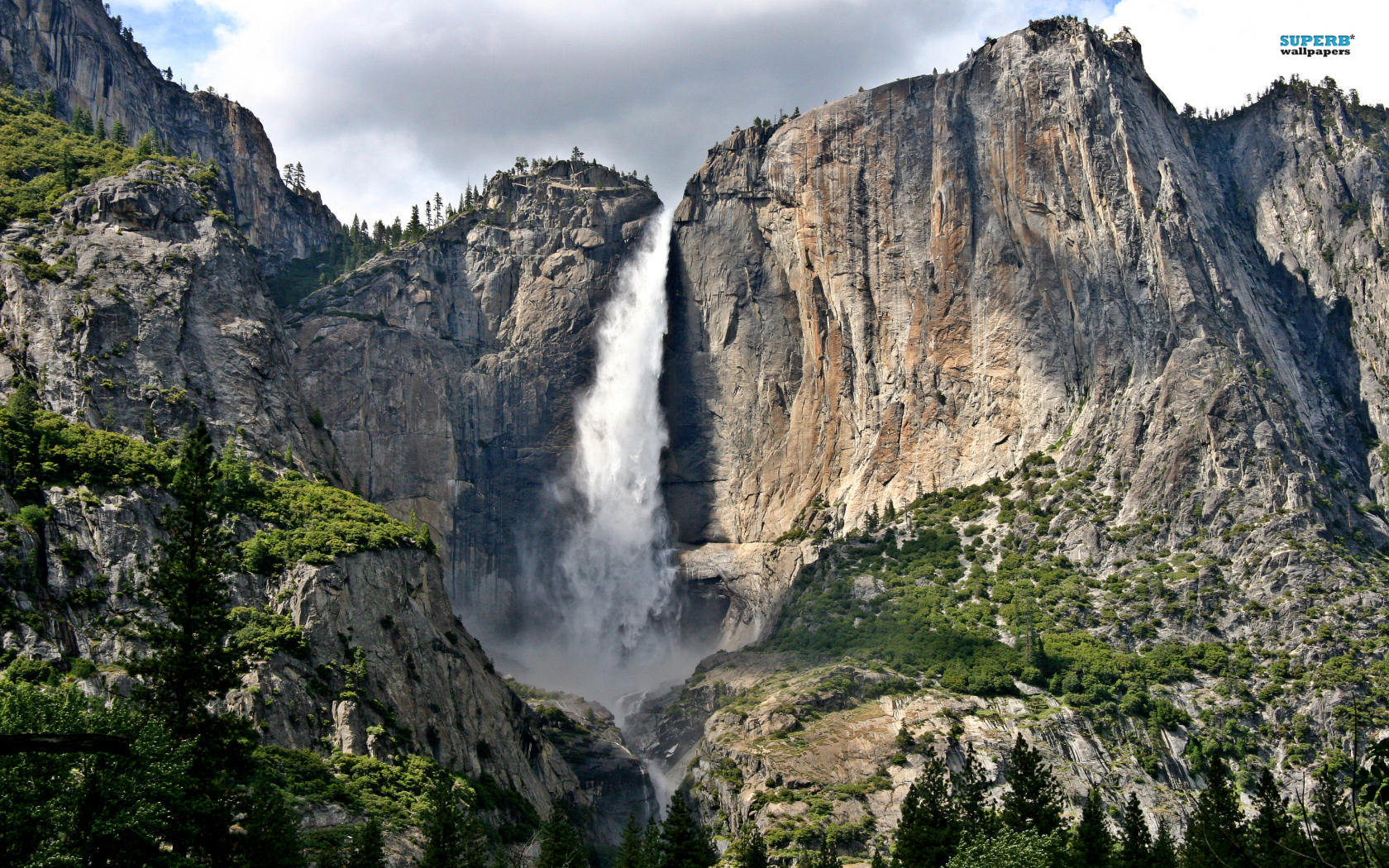 Highest waterfall in North America and sixth in the world rankings. It's a double drop but the upper fall – pictured here against the grandest mountain architecture thinkable – is inestimably superior. Whilst the lower fall is undeniably impressive, it's still difficult to imagine it flows from so majestic a predecessor. I shall visit this place one day, I feel it in my blood.
14) Virginia Falls, Canada, 96m 

The first of my two Canadian offerings. Over twice the height of Niagara, over 2 and half times wide as is it is tall, and way off in the wilderness. When I was a boy, I watched a BBC programme about a canoeing expedition up the South Nahanni River. One of the campsites was right where that tiny person is standing in the photo. I couldn't stop thinking about it afterwards. That sloping towerblock of water split by that colossal monolith. The roar. Still feel the same frisson now.
13) Hunlen Falls, Canada, 401m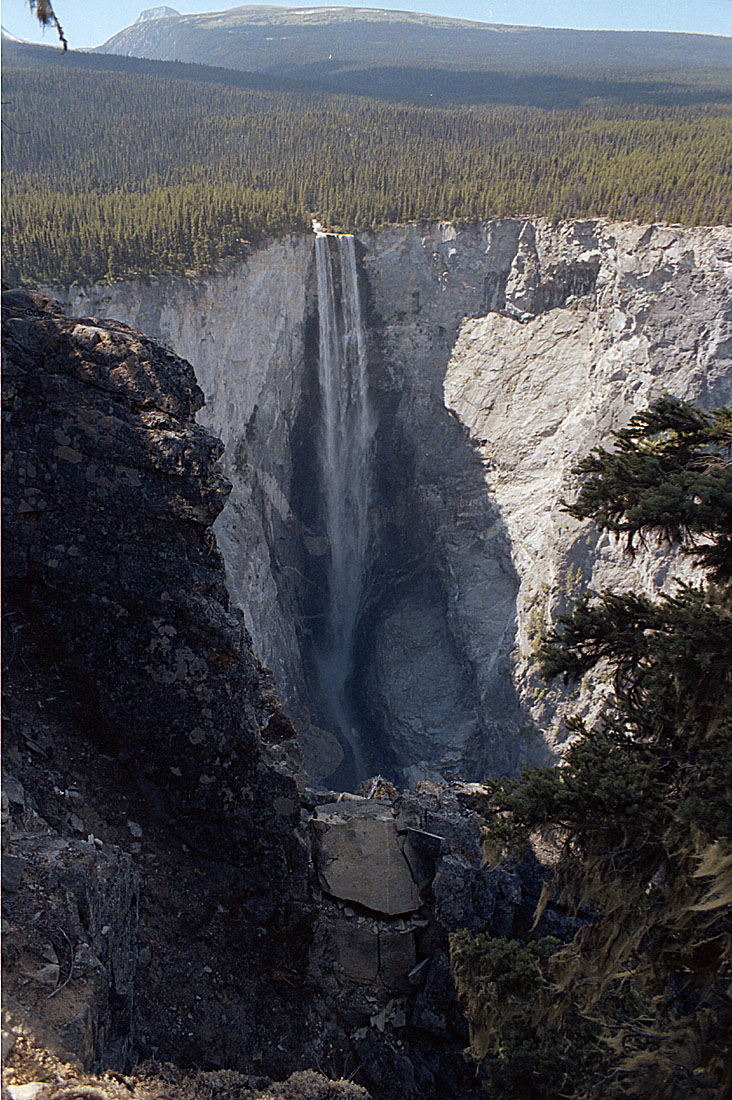 My second Canadian offering and the highest unbroken drop in the country. A true giant. Imagine walking through those minuscule pines along the cliff edge. Doesn't your tummy fizz? I've yearned to go here since coming across a photo in a schoolfriend's "Readers Digest Book of Natural Wonders" one lunch break. The falls can only be reached via a long trek or sea-plane to a nearby lake. Her inaccessibility seems entirely appropriate to me.
EUROPE
12) Falls of the Beich Burn, Scotland, 32m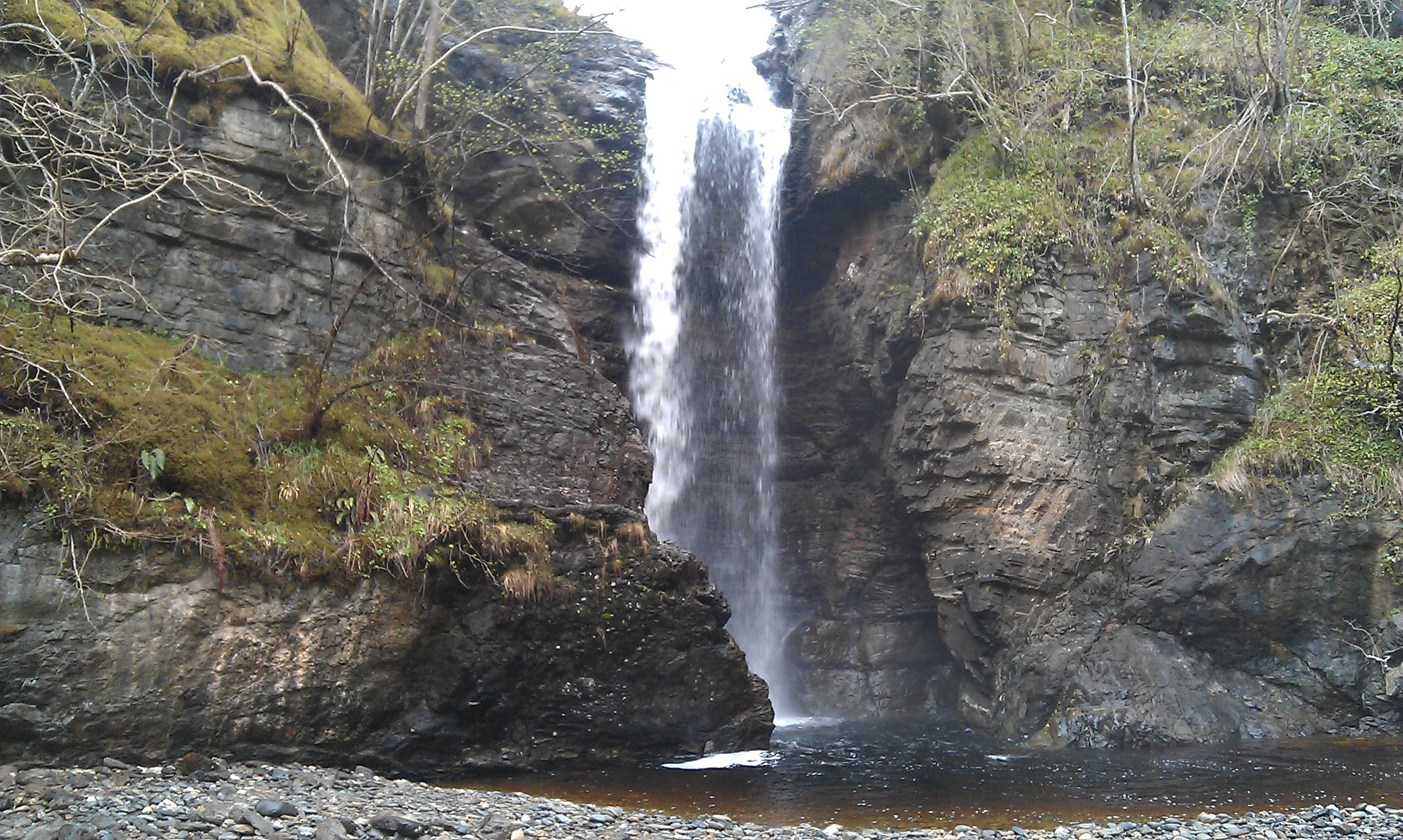 My favourite local waterfall and no less a contender. Once, an essential stop-off for the Victorian sightseer. Now, off the maps and a small battle to reach. She's situated in a gorge north of Loch Earn in a rich fragment of the aulde wildwood, with gnarled oak, red squirrels and a heady aroma of mushrooms and earth. The falls are achingly pretty: that diagonal throw of the mossy rocks, the secretive plunge pool, the little pebbly beach in front. Sigh. It feels like I'm the only person who ever visits her these days.
11) La Cascade de Sillan, France, 42m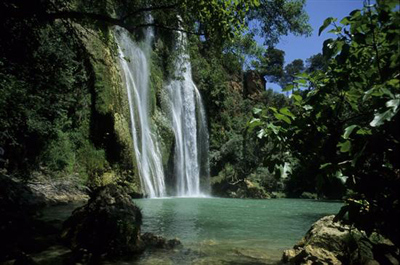 A slice of paradise among the hilltop olive groves and vineyards of the Haut Var. My better half and I stopped here en route from the Riviera to the Verdon Gorge some years back. We trudged through the summer heat to the viewpoint and then picked our way upstream through tangled woods to this spot, more Blue Lagoon than Provencal. The path had been busy, but we'd the swimming hole all to ourselves. Into those cool waters we slid. Oh! Feathery cascades falling into a turquoise pool over cliffs bedecked with ferns and flowers. It was so impossibly idyllic, the memory has since assumed the quality of a dream.
10) Skogafoss, Iceland, 60m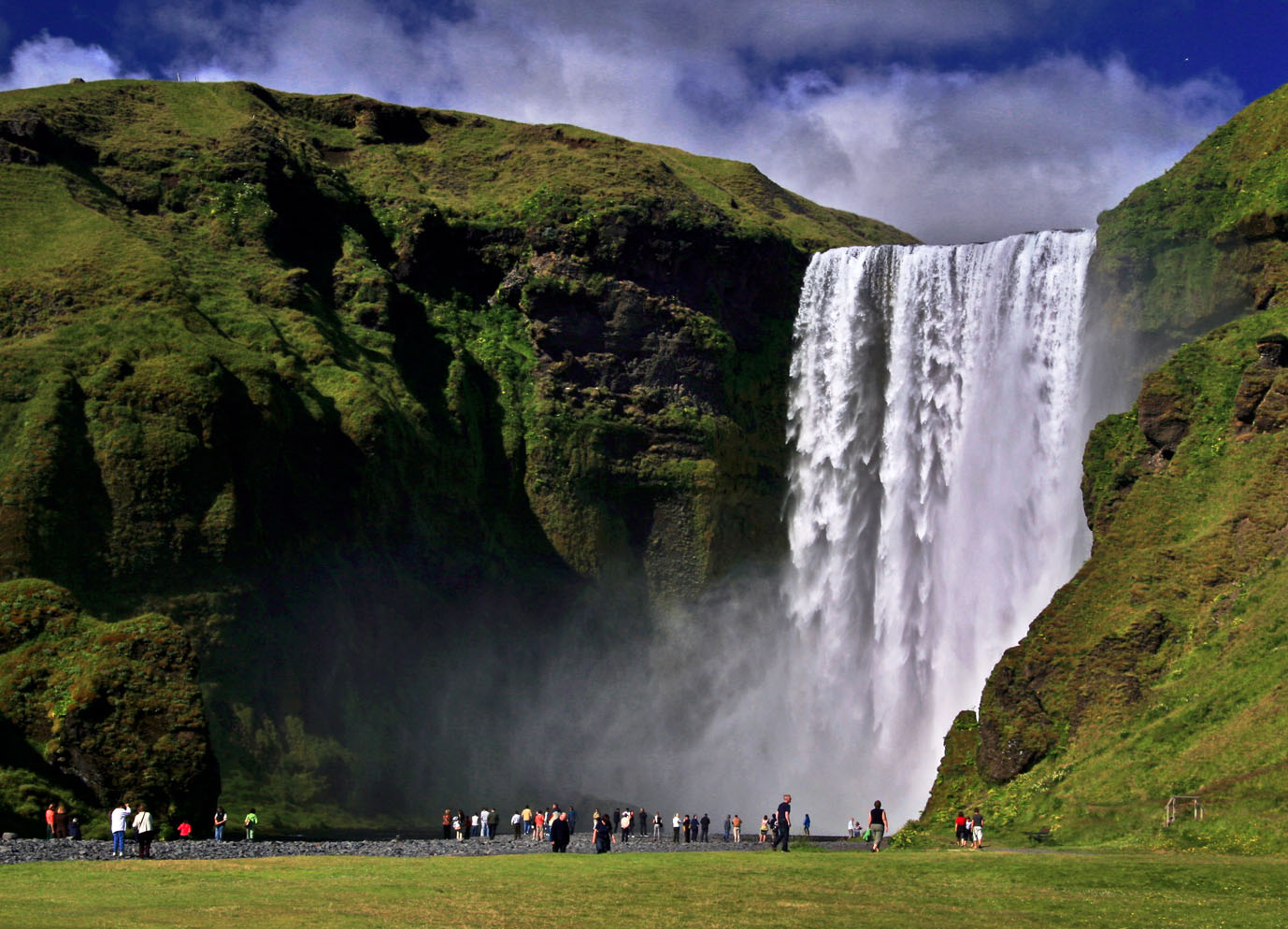 Probably, my favourite of the three Icelandic offerings. P&O used to have an advert which included a woman running naked across the grass towards Skogafoss accompanied by the question "what does that feel like?" I have done it, albeit clothed, till I was pummeled to a stop by wind and foam, and can confirm that it feels brilliant!!! (and that the legendary Viking horde in the cave behind is unreachable)
The setting isn't quite as wild as you'd imagine. Pulling back would reveal, rather incongruously, a couple of football pitches, a children's play park, a little village and the main road. It really doesn't matter though. The waterfall's perfect proportions (the Golden Rectangle?) and that oh-so-satisfying arrangement of white, green and blue, trump all. Every time I look at her picture, before or since, I yearn to be there.
9) Dettifoss, Iceland, 45m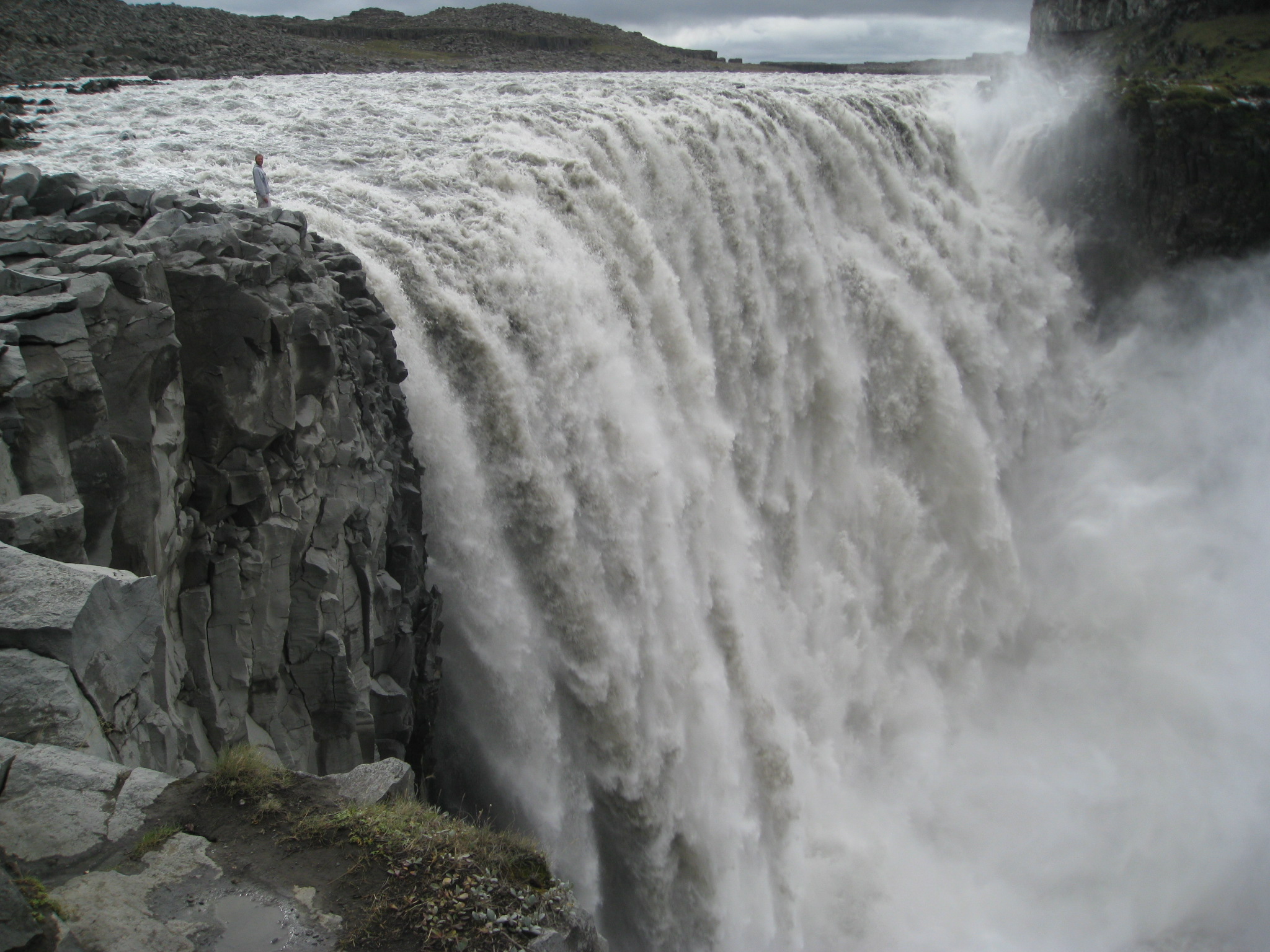 The second Icelandic classic: the most powerful cataract in Europe. Twice as wide as she is tall. Sci-fi movie geeks may recognise her from recent appearances in 'Oblivion' and, more notably, as the place the Architects seeded life on Earth in 'Prometheus'. I was never a big fan until I paid her a visit in the noughties and was utterly, and quite literally, blown away.  The volcanic surroundings really are primordial: harsh, jagged, almost entirely devoid of vegetation. The water wallops down into the abyss with the force and din of a rocket launching, concealing the canyon below in a boiling cauldron of mist.  I lay on my front right where that guy is standing for quite some time in sense-boggled bliss!
8) Haifoss, Iceland,  122m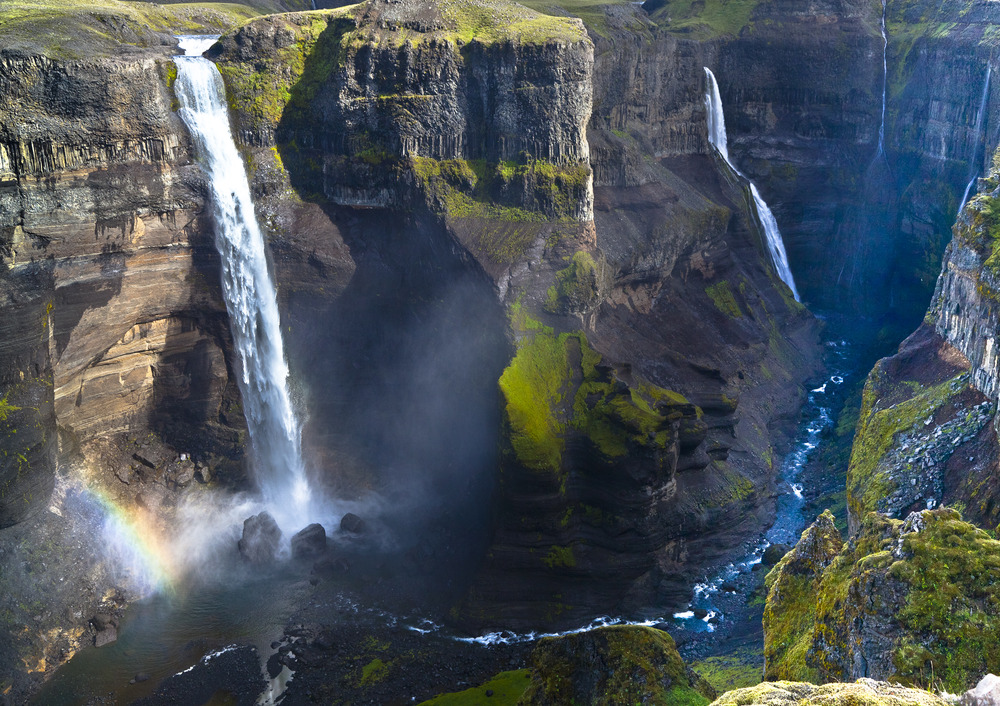 The last Icelander. The second tallest in the country and way superior to the tallest, Glymur. Her flow is so powerful, she maintains her outward angle of fire all the way down to those poor eternally-pounded boulders. The venue is straight out of a fantasy novel. Those sculpted escarpment walls and delightful sister falls, one of which is only marginally less huge. Unfortunately, only when I arrived in Iceland did I realise I needed a 4×4 to get within walking distance of Haifoss and so had to forgo my long-intended visit. I wrestle regret every time I see her picture.
Hope you enjoyed. See you next Friday for 5 (and a bit) South American classics!