Welcome to the 3rd and final Part of Arkadian's Top 20 waterfalls, the photos of which I seek most often when I need a panacea for work-related insomnia.
In Part 1,  we did a whistlestop tour of 14 beauties across Africa, Asia, N America and Europe. Part 2, covered 5 (and a bit) S American classics.
Today, it's 2 Venezuelans – my all-time favourites. I've had the privilege to have visited them and both occupy a special place in my heart.
2) Salto Aponwao (Chinak-meru), Venezuela, 108m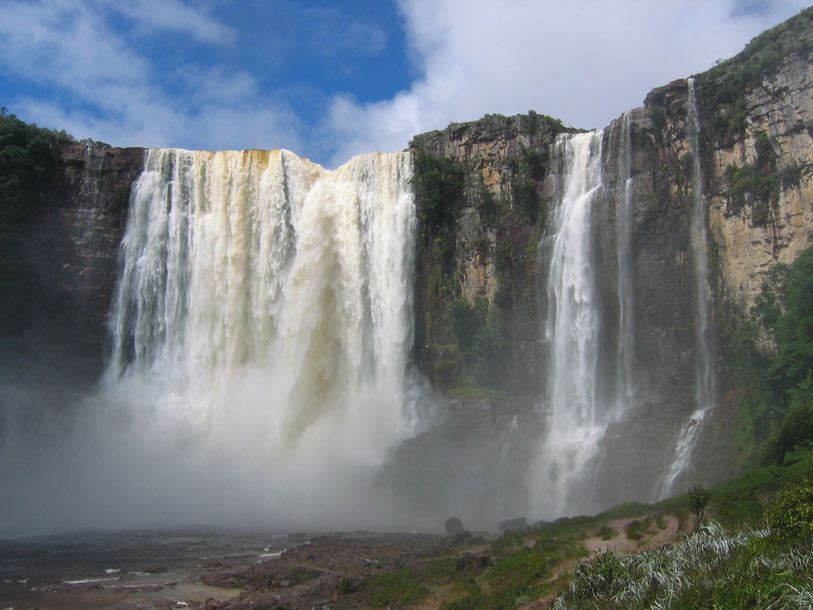 First, Chinak-Meru. Whilst on the South America jaunt I mentioned in Part 2, my pal and I heard rumours of a spectacular fall in the middle of the Gran Sabana and decided to walk to it.
The bus dropped us at a desolate stop consisting solely of a sign "km 171", on a dead-straight road which tapered into infinity to the north and south. There was no tarmac at any other point of the compass for many hundreds, often thousands, of miles.
We set off along a rough track, not seeing a soul till late afternoon, when a line of dust shimmering in the heat marked the approach of some Land Rovers. Sandhurst officers on safari. To our relief, they were heading to the falls and offered us a lift.
At dusk, we arrived at a small Indian village, Iboribo, about a mile-or-so upstream of the falls. Embarrassingly, the officers went on to treat the charming residents as if they were incompetent servants of the Empire, though it seemed like water off a duck's back to them.
Sandhurst pitched their field tents with raised eyebrows as we crawled into our folded-over plastic sheet (recommended to us as the lightest, easiest and most effective shelter for the Gran Sabana). I suffered Christmas night syndrome as I could hear the distant roar of the falls, but eventually managed to sleep.
We awoke early to snuggling by half a dozen village dogs, which had sneaked in to escape a night of torrential rain. Whilst Sandhurst were wringing out their sleeping bags, we cadged a canoe across the river and took the track to the falls. The earth began to tremble.
She was utterly mind-blowing. A skyscraper exploding. Hopelessly over-excited, we brushed our teeth at the edge and then scrambled down to the bottom. Downstream we found some branches on a sandbank (in the pic below) and used them to paddle across the river.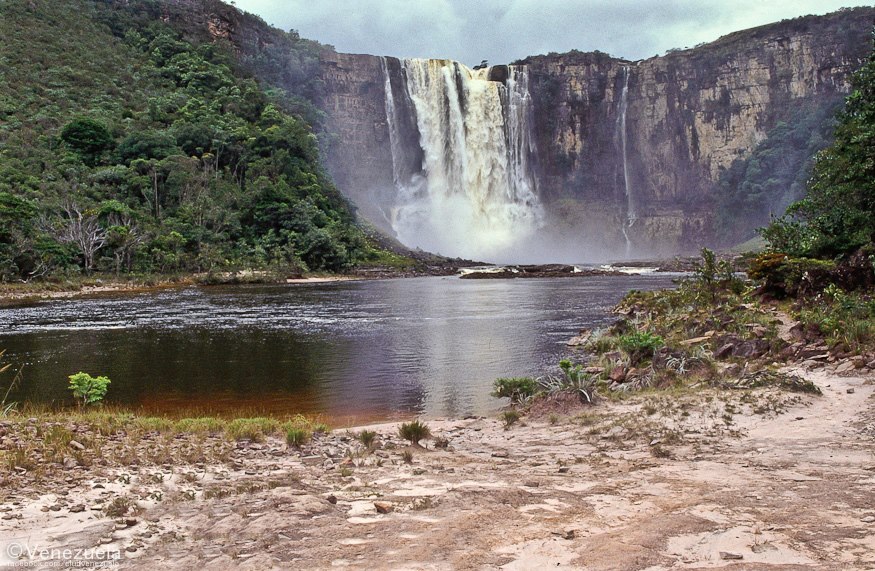 We picked our way up the bank (left in the pic above) towards the mighty curtain of water. Our advance was soon halted by hurricane-force winds and vertical spray which whipped us backwards over the slippery boulders in fits of laughter.
We returned to find Sandhurst on the bank having a barbecue, which they kindly shared.  We spent the next few hours swimming, lounging, in good spirits, at a place that seemed at the very edge of the known universe.
In short, it was the best 19yr old boys-will-be-boys dream day out ever. Apparently, this place is now a fixture on the Gran Sabana itinerary and frequently teems with busloads of tourists. I just cannot imagine it and try not to.
1) Angel Falls, Venezuela, 979m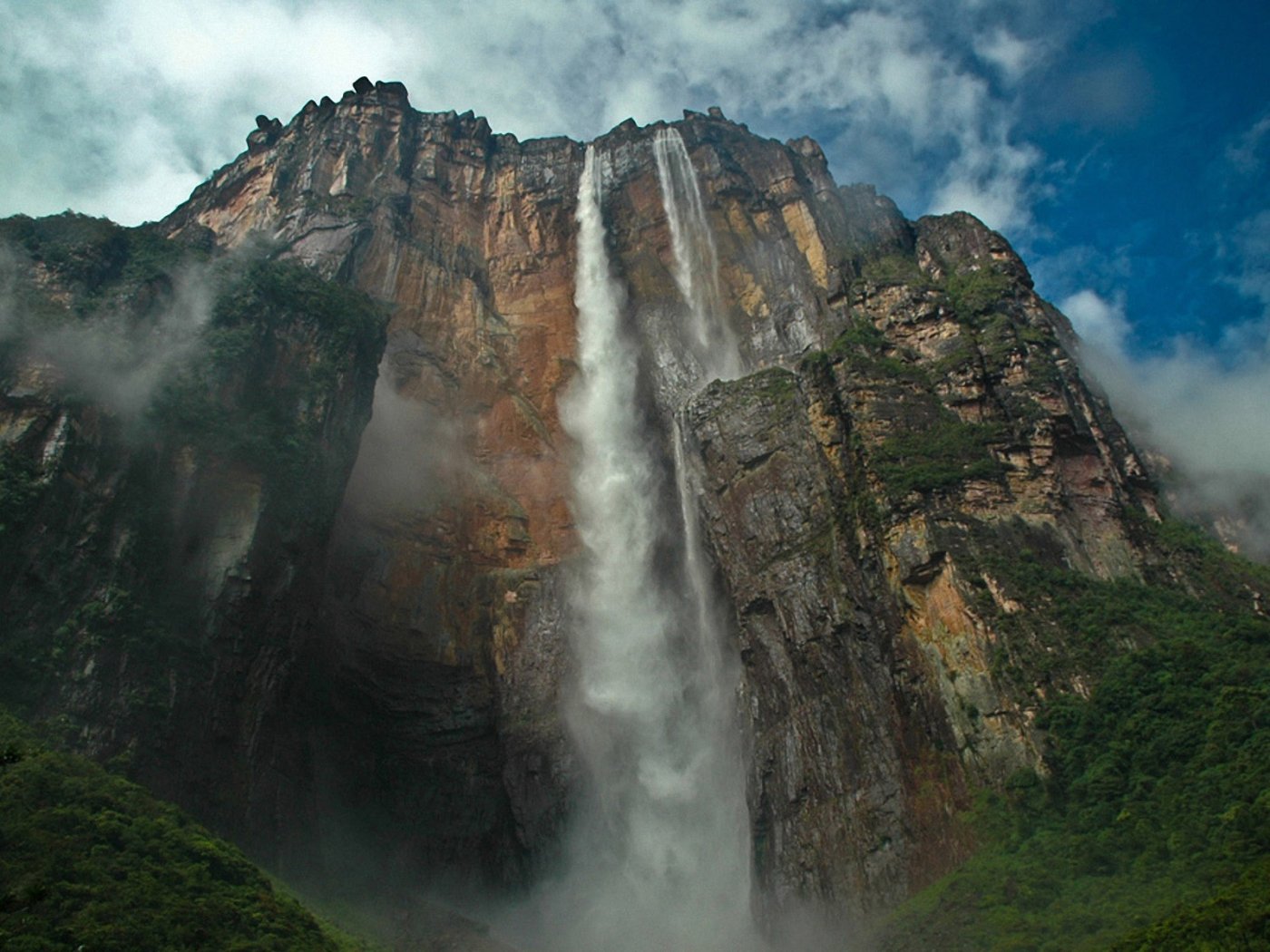 And finally…the High Queen of the Roraima plateau and, indeed, of all waterfalls. Angel Falls is far and away the loftiest on the planet, plummeting an unbroken kilometre from a canyon wall deep within Auyan Tepui.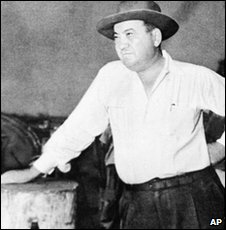 Appropriate though it may seem, she was not named for a divine revelation, but a grizzled, hard-drinking US pilot, Jimmy Angel (photo right). Legend has it that a mysterious gentleman with a map once chartered Jimmy's plane, directing him to a remote landing spot somewhere in the tablelands. Nearby, was a river with a bed that glittered with gold. He filled some bags, they flew home and parted company.
Jimmy never saw the gentleman again, but he did spend the rest of his life searching for that river. He never found it, but on one trip discovered a greater treasure – the falls which now bear his name. He crashed shortly afterward atop Auyan Tepui, where the wreck of his plane remained for decades (now moved to Ciudad Bolivar airport). Miraculously, he found his way down the precipitous cliffs and home through a hundred miles of thick jungle. Thankfully, this time he remembered where X marked the spot.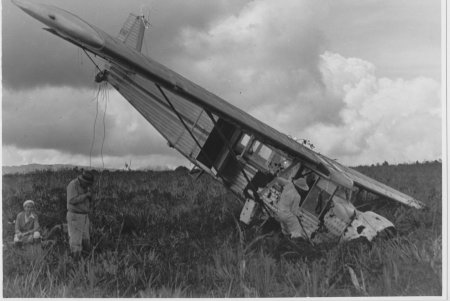 In the final week of my South American jaunt, I realised I couldn't leave without making the pilgrimage. Penniless, I rang my Mum and, bless her, she agreed to loan me the money for the flight.
I boarded a Cessna 4 seater at Ciudad Bolivar, sitting upfront with the pilot, with a wealthy German couple in the backseat. We took off into a cloudless morning sky, but landed at the paradise jungle resort of Canaima for refueling in decidedly moodier weather.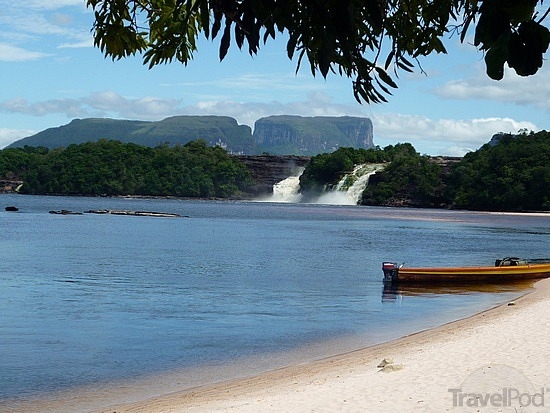 By the time we'd had lunch and ogled the flocks of macaws and the fantastic waterfalls around the lagoon (see above on a nice day), a squall had descended. The pilot announced we'd have to turn back. Thousand foot cliffs and zero visibility do not a happy marriage make.
The Germans weren't fussed, but I was desperate. I pleaded with the pilot, plied him with cigarettes, offered him more money, but he wouldn't budge. Eventually I begged from the heart, expressing in bad Spanish why I wouldn't be able to live with letting this moment slip.
We took off into clouds flickering with lightning, the rain beating against the windows. The pilot was nervous. I felt guilty, irresponsible, and the Germans' simmering stare boring into my back.
Then, after a nerve-wracking 20 minutes of flying blind and silent, we suddenly emerged into brilliant sunshine. The eye of the storm.
And there she was, right there. Everyone sighed in wonder, all mortality concerns forgotten.
Swollen by the storm, those two falls in the picture above were united in one thunderous torrent of impossible proportions, her mists graced by a two full-circle rainbows. For a transcendent half-minute we swooped round, eyes-goggling, jaws hanging, hair prickling. Then clouds engulfed us once again for a rocky, but universally contented, flight home.
I'm an atheist but if I did believe in God and the power of prayer, this experience would likely be my Exhibit A.
And that, as they say, is that! The last of my midnight waterfalls. Well I feel better and I hope you do too. Night night. Zzzzzzzzzzzzzzzzzzzzzzzzzzzzzzzzzzzzzzz