Browsing articles tagged with " natural beauty"
Welcome to the 3rd and final Part of Arkadian's Top 20 waterfalls, the photos of which I seek most often when I need a panacea for work-related insomnia.
In Part 1,  we did a whistlestop tour of 14 beauties across Africa, Asia, N America and Europe. Part 2, covered 5 (and a bit) S American classics.
Today, it's 2 Venezuelans – my all-time favourites. I've had the privilege to have visited them and both occupy a special place in my heart.
2) Salto Aponwao (Chinak-meru), Venezuela, 108m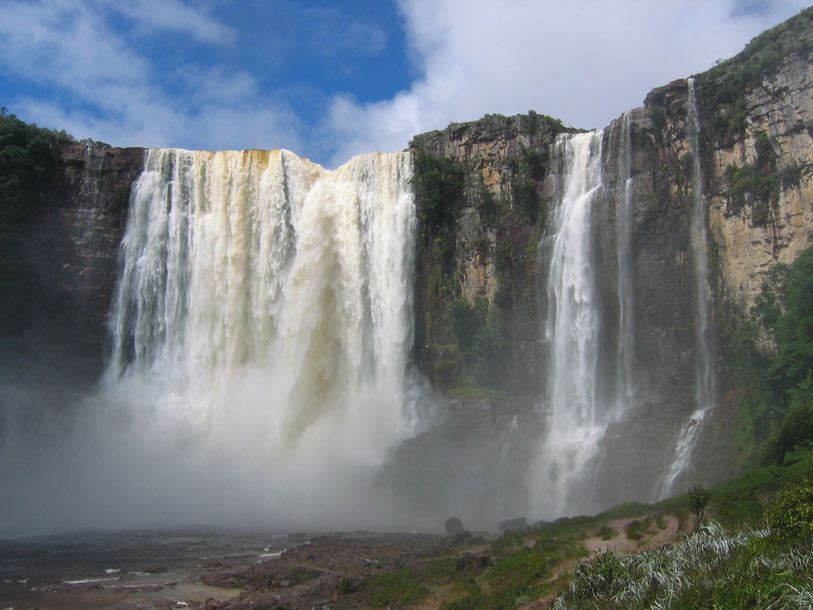 First, Chinak-Meru. Whilst on the South America jaunt I mentioned in Part 2, my pal and I heard rumours of a spectacular fall in the middle of the Gran Sabana and decided to walk to it.
The bus dropped us at a desolate stop consisting solely of a sign "km 171", on a dead-straight road which tapered into infinity to the north and south. There was no tarmac at any other point of the compass for many hundreds, often thousands, of miles.
We set off along a rough track, not seeing a soul till late afternoon, when a line of dust shimmering in the heat marked the approach of some Land Rovers. Sandhurst officers on safari. To our relief, they were heading to the falls and offered us a lift.
At dusk, we arrived at a small Indian village, Iboribo, about a mile-or-so upstream of the falls. Embarrassingly, the officers went on to treat the charming residents as if they were incompetent servants of the Empire, though it seemed like water off a duck's back to them.
Sandhurst pitched their field tents with raised eyebrows as we crawled into our folded-over plastic sheet (recommended to us as the lightest, easiest and most effective shelter for the Gran Sabana). I suffered Christmas night syndrome as I could hear the distant roar of the falls, but eventually managed to sleep.
We awoke early to snuggling by half a dozen village dogs, which had sneaked in to escape a night of torrential rain. Whilst Sandhurst were wringing out their sleeping bags, we cadged a canoe across the river and took the track to the falls. The earth began to tremble.
She was utterly mind-blowing. A skyscraper exploding. Hopelessly over-excited, we brushed our teeth at the edge and then scrambled down to the bottom. Downstream we found some branches on a sandbank (in the pic below) and used them to paddle across the river.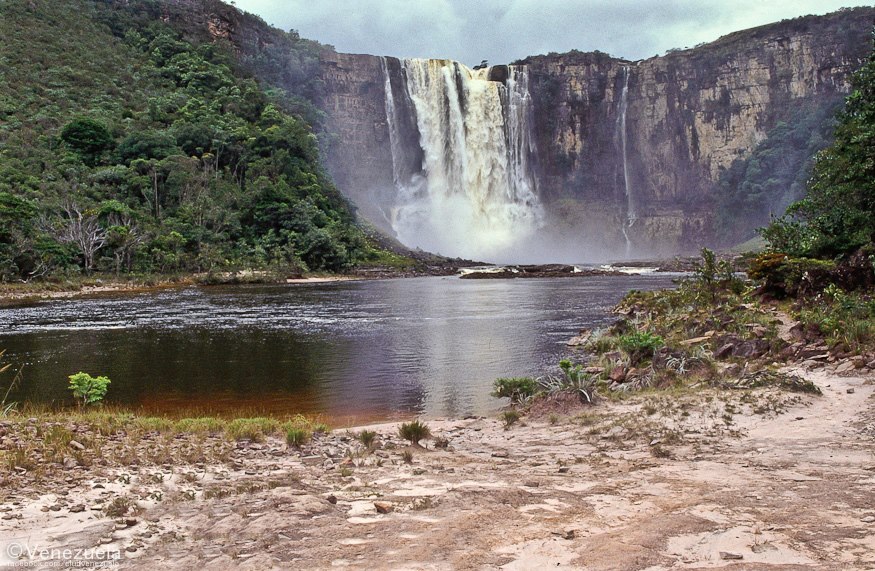 We picked our way up the bank (left in the pic above) towards the mighty curtain of water. Our advance was soon halted by hurricane-force winds and vertical spray which whipped us backwards over the slippery boulders in fits of laughter.
We returned to find Sandhurst on the bank having a barbecue, which they kindly shared.  We spent the next few hours swimming, lounging, in good spirits, at a place that seemed at the very edge of the known universe.
In short, it was the best 19yr old boys-will-be-boys dream day out ever. Apparently, this place is now a fixture on the Gran Sabana itinerary and frequently teems with busloads of tourists. I just cannot imagine it and try not to.
1) Angel Falls, Venezuela, 979m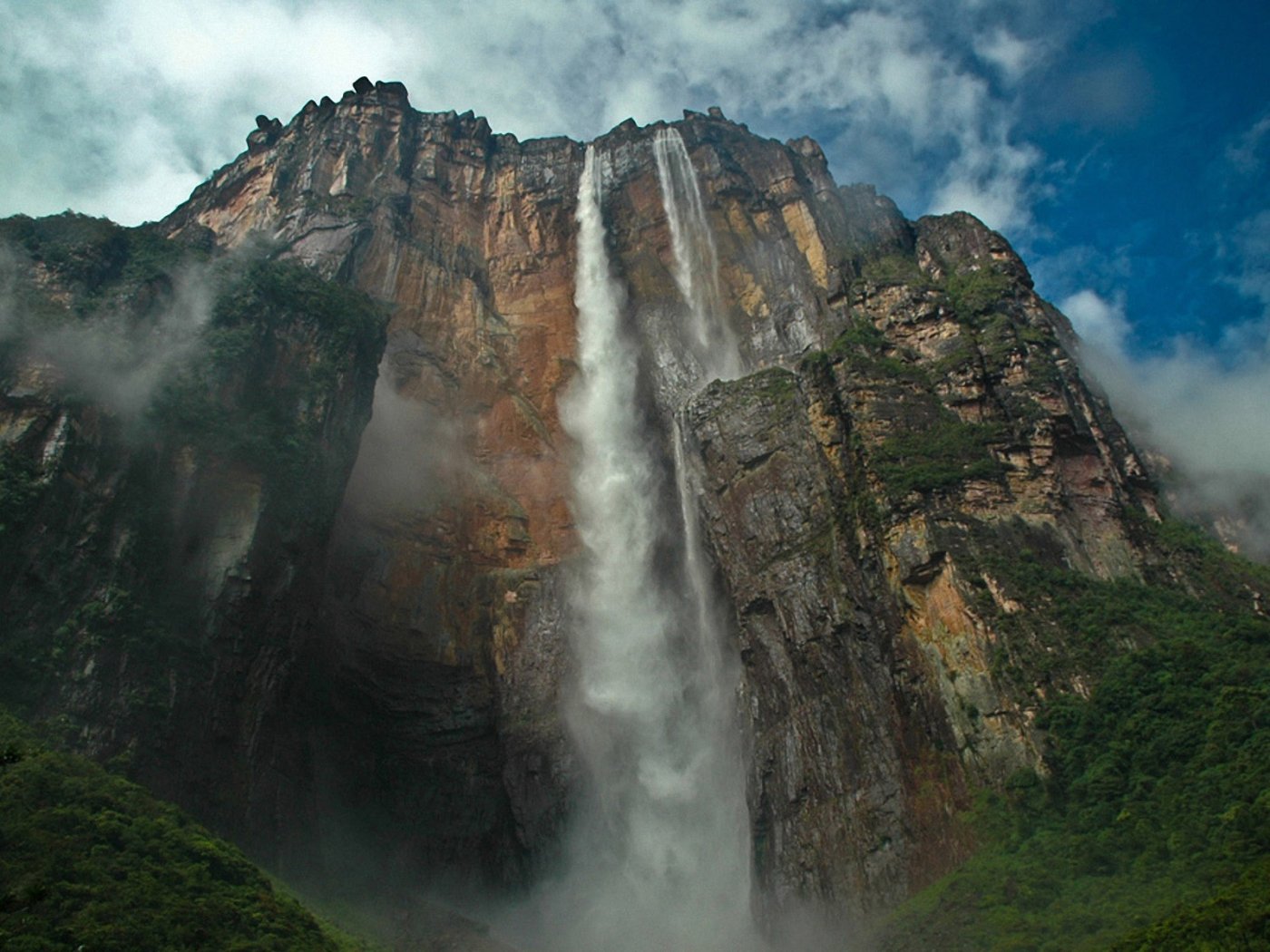 And finally…the High Queen of the Roraima plateau and, indeed, of all waterfalls. Angel Falls is far and away the loftiest on the planet, plummeting an unbroken kilometre from a canyon wall deep within Auyan Tepui.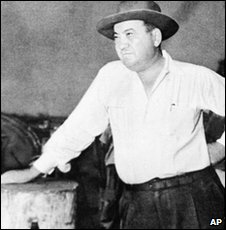 Appropriate though it may seem, she was not named for a divine revelation, but a grizzled, hard-drinking US pilot, Jimmy Angel (photo right). Legend has it that a mysterious gentleman with a map once chartered Jimmy's plane, directing him to a remote landing spot somewhere in the tablelands. Nearby, was a river with a bed that glittered with gold. He filled some bags, they flew home and parted company.
Jimmy never saw the gentleman again, but he did spend the rest of his life searching for that river. He never found it, but on one trip discovered a greater treasure – the falls which now bear his name. He crashed shortly afterward atop Auyan Tepui, where the wreck of his plane remained for decades (now moved to Ciudad Bolivar airport). Miraculously, he found his way down the precipitous cliffs and home through a hundred miles of thick jungle. Thankfully, this time he remembered where X marked the spot.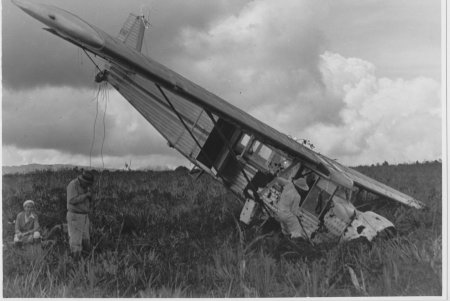 In the final week of my South American jaunt, I realised I couldn't leave without making the pilgrimage. Penniless, I rang my Mum and, bless her, she agreed to loan me the money for the flight.
I boarded a Cessna 4 seater at Ciudad Bolivar, sitting upfront with the pilot, with a wealthy German couple in the backseat. We took off into a cloudless morning sky, but landed at the paradise jungle resort of Canaima for refueling in decidedly moodier weather.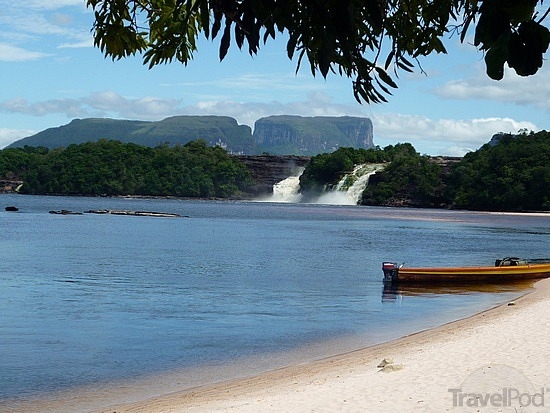 By the time we'd had lunch and ogled the flocks of macaws and the fantastic waterfalls around the lagoon (see above on a nice day), a squall had descended. The pilot announced we'd have to turn back. Thousand foot cliffs and zero visibility do not a happy marriage make.
The Germans weren't fussed, but I was desperate. I pleaded with the pilot, plied him with cigarettes, offered him more money, but he wouldn't budge. Eventually I begged from the heart, expressing in bad Spanish why I wouldn't be able to live with letting this moment slip.
We took off into clouds flickering with lightning, the rain beating against the windows. The pilot was nervous. I felt guilty, irresponsible, and the Germans' simmering stare boring into my back.
Then, after a nerve-wracking 20 minutes of flying blind and silent, we suddenly emerged into brilliant sunshine. The eye of the storm.
And there she was, right there. Everyone sighed in wonder, all mortality concerns forgotten.
Swollen by the storm, those two falls in the picture above were united in one thunderous torrent of impossible proportions, her mists graced by a two full-circle rainbows. For a transcendent half-minute we swooped round, eyes-goggling, jaws hanging, hair prickling. Then clouds engulfed us once again for a rocky, but universally contented, flight home.
I'm an atheist but if I did believe in God and the power of prayer, this experience would likely be my Exhibit A.
And that, as they say, is that! The last of my midnight waterfalls. Well I feel better and I hope you do too. Night night. Zzzzzzzzzzzzzzzzzzzzzzzzzzzzzzzzzzzzzzz
Welcome to Part 2 of Arkadian's Top 20 waterfalls. 
Last week,  we covered 14 wonders across 4 continents (Africa, Asia, N America and Europe). The remaining 7 are all in South America, arguably, the ultimate destination for the true waterfall connoisseur.
This week, we're going to cover 5 (and a bit) absolute classics. The Top 2, I'll leave till next Friday. Enjoy!
SOUTH AMERICA
7) The Gocta Cataract, Peru, 771m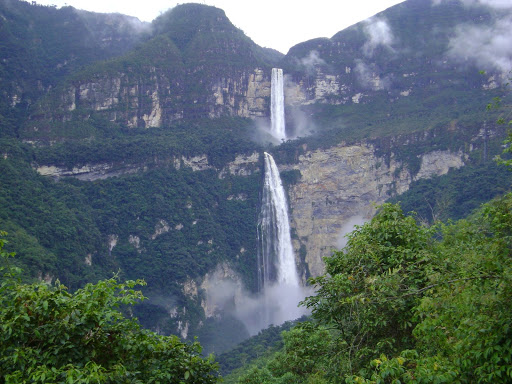 The hope that undiscovered wonders still lurk in the last great wildernesses of the world seems both magical and important to me. Validation didn't come much better than a German and Peruvian expedition discovering this gigantic, and very beautiful, double fall in 2005 – possibly, the world's 3rd tallest.
6) Hanging Glacier Fall (Ventisquero Colgante Falls), Argentina, 488m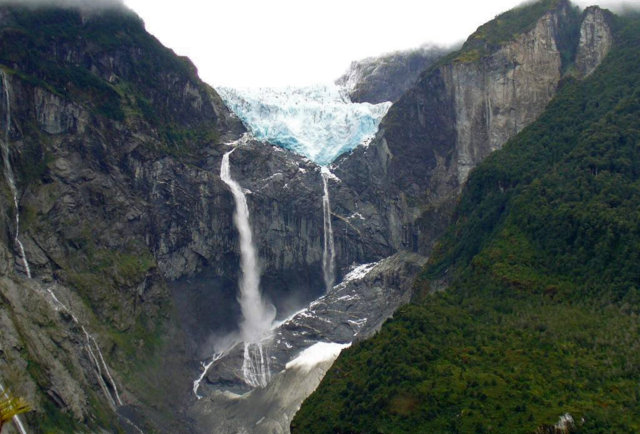 An exceedingly impressive fall that I only 'discovered' in the last few years. She's one of South America's Top 5 largest, so Lord knows how I missed her. The dramatic setting baffles one's sense of scale: that broken glacial snout nestling between towering cliffs, and that glorious pony-tail cataract, so graceful and yet so colossal. Would love to visit.
5) San Rafael Falls, Ecuador, 160m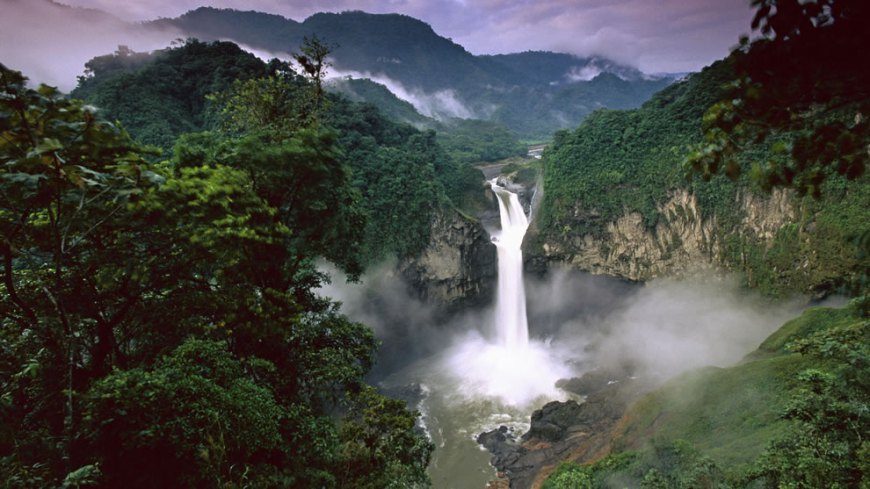 I know of no other instance where a country's highest and largest waterfall are one and the same.  Unquestionably, she's one of the continent's finest: thundering between those bat-wing rocks amid cloud forest, en route from High Andes to Amazon.
I went on a 9m jaunt  through South America with a friend when we were 19. Tragically, unknowingly, we came within a day's ride of San Rafael (being young and dumb, we neglected to take a guidebook). I only realised this last year, when I first read about her in a "1000 Natural Wonders To See Before You Die". I try not to dwell on it too much.
Despite being situated within a pristine national park, there are currently plans to harness San Rafael for a Chinese-funded hydroelectric project. It would be the country's largest. The economic benefits sound dubious to say the least, and locals and environmentalists are up in arms.
It breaks my heart that a place so wild and special – yet another – could be sacrificed on the altar of profit and growth. A prayer for San Rafael, please, that good sense may prevail.
4) Kaiteur Falls, Guyana, 251m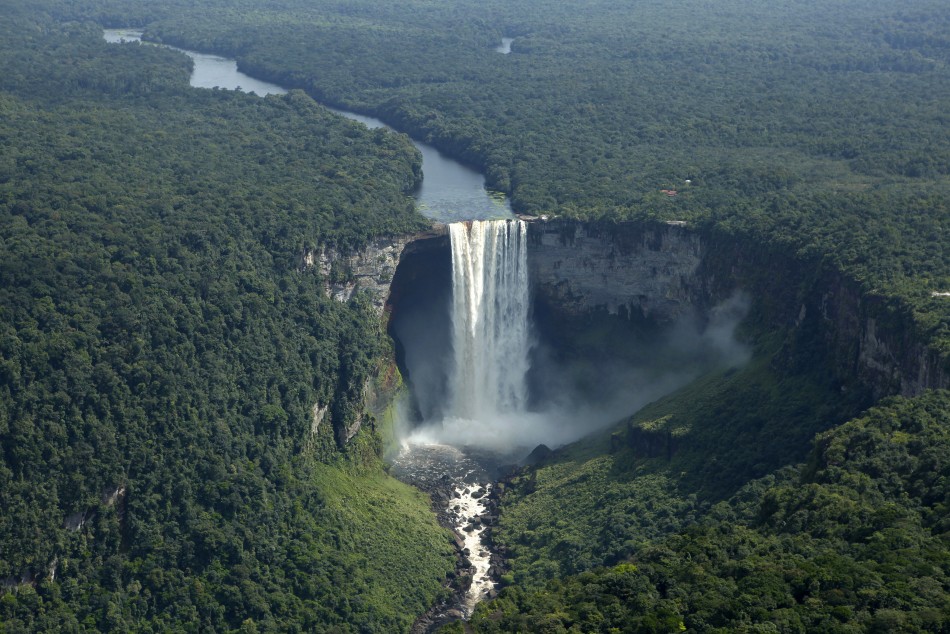 Stretching across the Guyanan and Venezuelan hinterland, and their borders with Brazil, is the Roraima Plateau. Here, out of virgin rain-forests and grasslands rise towering tepuis:  bizarre plateau-mountains, vast, girt on all sides by sheer cliffs thousands of feet high. Tepuis house a treasure trove of gold and precious stones, unique ecosystems (including dinosaurs according to Arthur Conan Doyle, who used them as the setting for his "Lost World"), and the finest cataracts in the world. My last 5 are all situated here.
First, Guyana. In my English classroom at secondary school there was a fat old geography stats book on the shelf behind my chair. My favourite double page featured pen-and-ink drawings of the world's paramount waterfalls at the time of writing. Six were in Guyana! To this day, I've seen pictures of only three, all of which made the list. Kaiteur is the only one which is well-known. Her fame is justly deserved. Remote, deep within rich rain-forests, no other cataract on the planet better combines awesome volume, height, power and beauty.
3) King George VI and King Edward VIII Falls, Guyana, height unknown.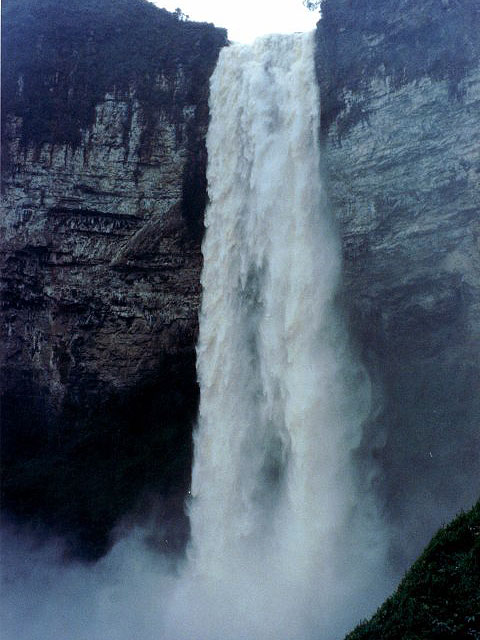 OK, including two here is cheating a little, I'll admit. My main entry is the King George (above) as a result it being, possibly, the most awe-inspiring waterfall I've ever seen. However, it then seemed wrong not to include the only other photo I've ever found of the 5 remaining Guyanans from that old geography book. This is a tantalising shot (below) of the purportedly much larger King Edward from an 1930's explorer's aeroplane.
No-one knows the height of these titans for sure, but the explorer who discovered King George in 1938 estimated it was around 1600 feet (by throwing stones off the top and counting how long they took to reach the bottom). That's GINORMOUS! Whilst likely to be an exaggeration, even at half that height, these are world-class monsters. It's astonishing and thrilling that these two are not better known, let alone those tantalising other 3. Guyana is a land of dream for me.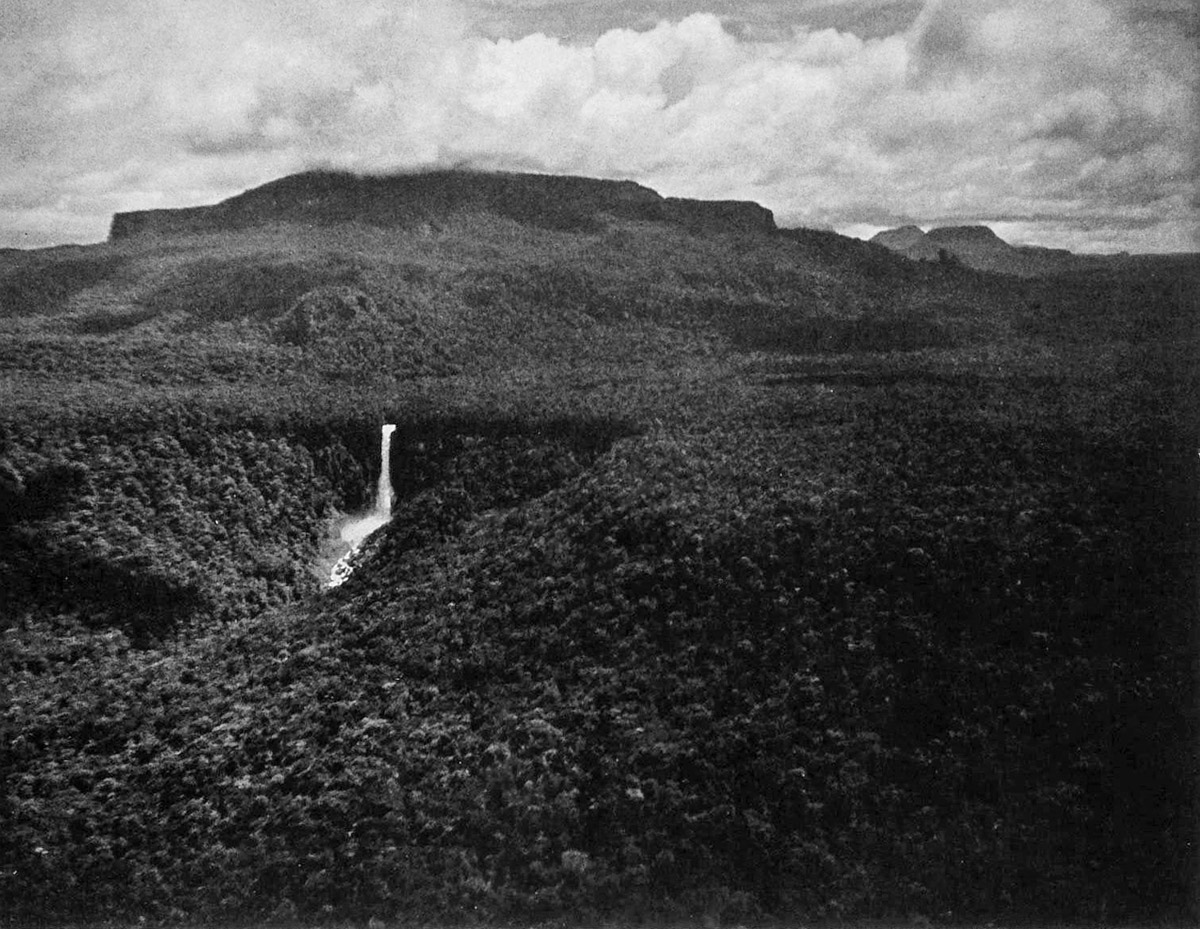 Thanks for listening and hope you enjoyed this as much as I did! See you next Friday for my Top 2 all-time favourites.
Anybody who knows me well will know I've a thing for waterfalls. Rather, it's a lifelong obsession, one which has conferred many of my all-time favourite places and experiences.
When work is cognitively demanding, which it frequently is, my brain wakes me in the early hours problem-solving. To distract and soothe overactive neurons, I often look at pictures of waterfalls online.
Since December, I've been snowed under a complex public inquiry, which has involved a lot of midnight waterfall trawling. At one point, it occurred to me that I might help myself, and others who might appreciate their therapeutic properties, by putting some of the best in a single blog.
So here, over the next 3 weeks, are my Top 20 favourite waterfalls, together with a bit (sometimes more) about why I love each.
They're not ranked, but listed by continent from those with the least, to those with the most. Africa, Asia, N America and Europe this week; S America, next Friday, and my Top 2 (still in S America) the week following.
Fellow connoisseurs may ask where is Iguassu? Victoria? Niagara? Gullfoss? Where is Australasia (Wallaman, Jim-Jim and Sutherland came close)? Norway (both Mardalfossen and Langfoss were shortlisted)?
The answer is that I love many many many more, but these are my crown jewels. Enjoy!
AFRICA
20) Kalambo Falls, Tanzania, 235m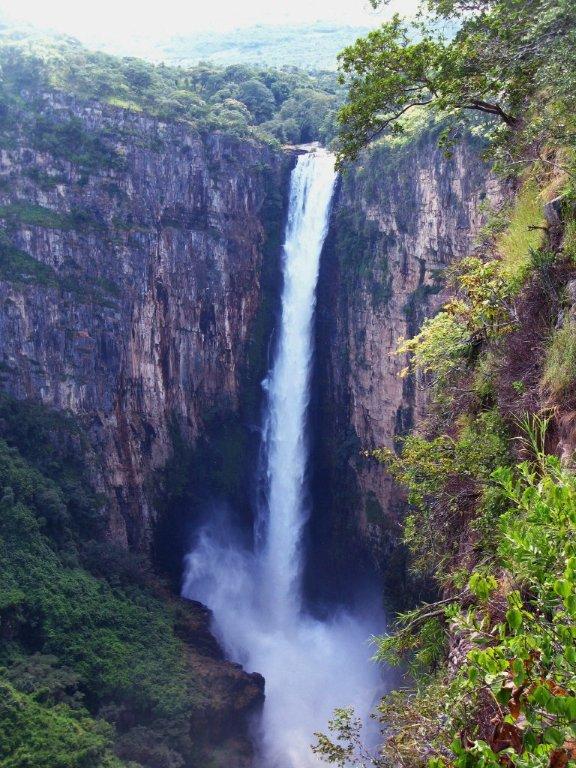 My favourite African waterfall, and the only one on the list. Lying just upstream of Lake Tanganyika on the Zambian border, it's one of the continent's highest uninterrupted falls and on a substantial river. It reminds me of that jungle escarpment where Weissmuller's Tarzan and the elephant's graveyard were found in the 30's black-and-white movie I adored as a kid. If I'd known about this fall when I visited Tanzania in the 90's, I'd have made the trek.
ASIA
19) Jog Falls, India, 253m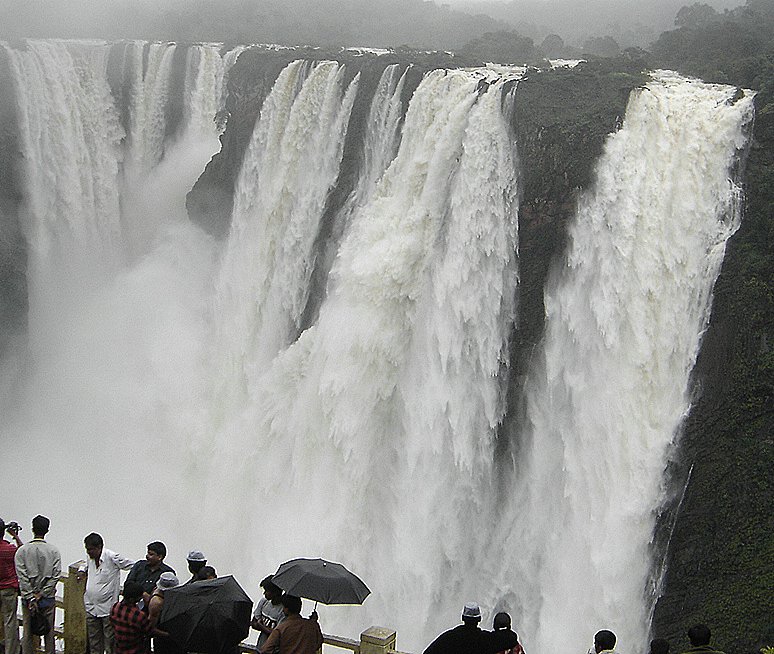 India's second tallest plunge and, in my view, Asia's preeminent waterfall. Sadly, now shackled by a hydroelectric scheme and ordinarily, a shadow of her former majesty. However, when the monsoon arrives and the sluices open, she has few equals. A mighty river hurling into a 1000ft chasm in four distinct falls with mythic names: Raja, Roarer, Rocket and Rani. Sooo on the bucket list.
18) Huangguoshu Waterfall, China,  67m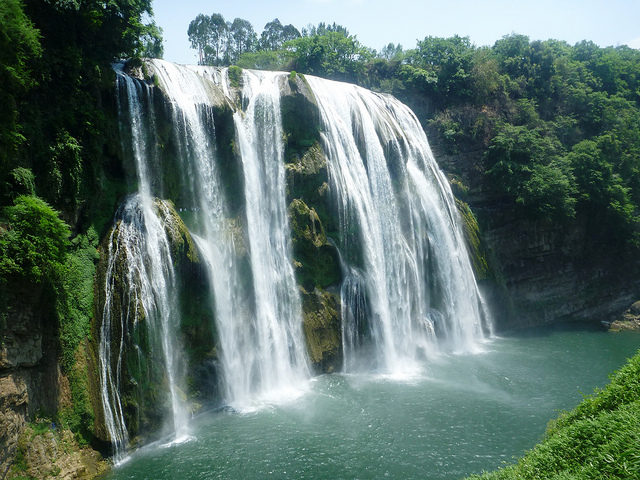 China's largest and best waterfall, and somehow, so very Chinese. A peerless combination of silk painting delicacy and jaw-dropping size. Look carefully and you can see weeny people in the cave behind the falling water. Gorgeous.
NORTH AMERICA
17) Lower Yellowstone Falls, USA, 94m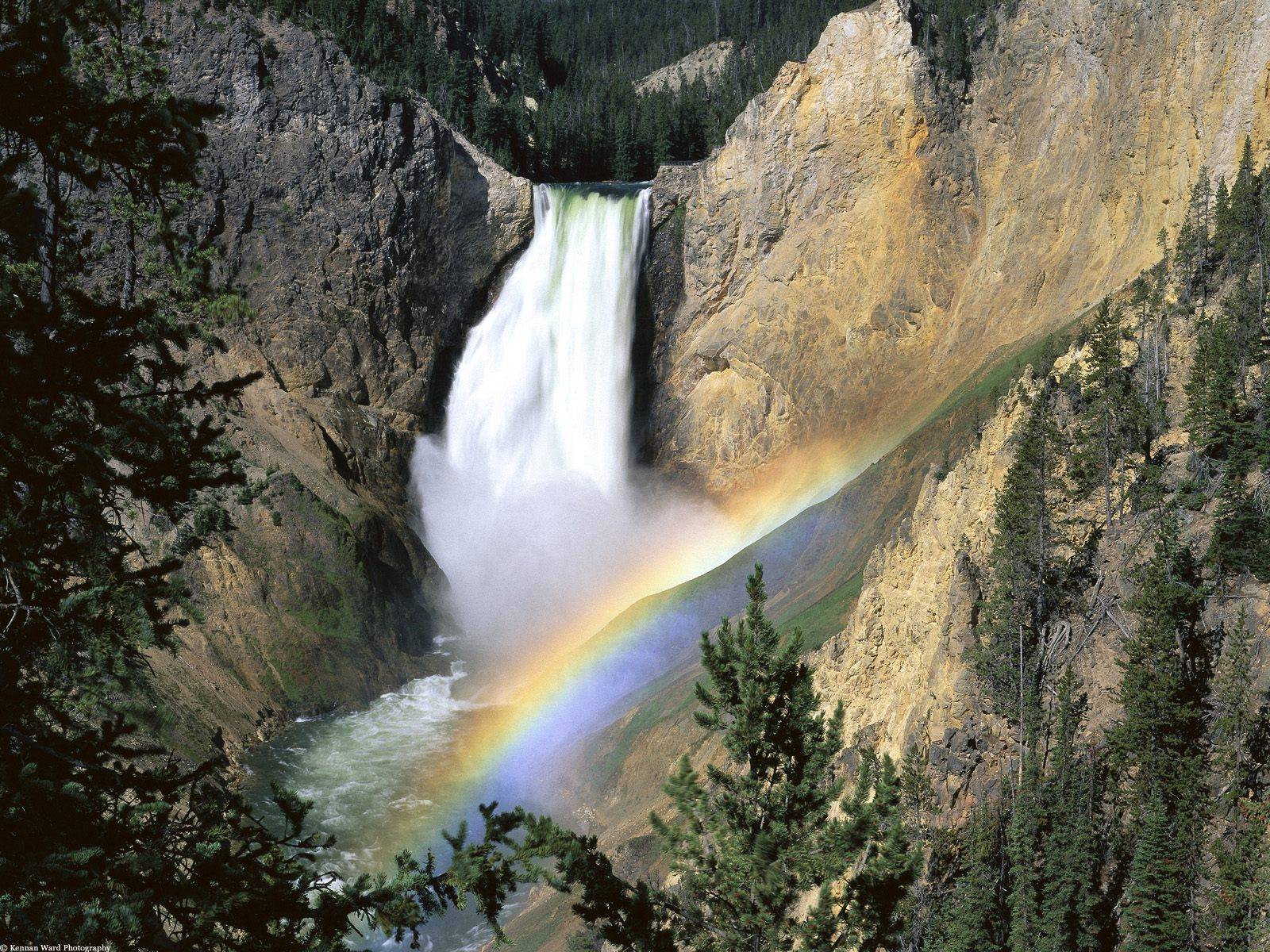 The seed corn. We visited Yellowstone when I was 7 and its otherwordly landscape and nature burned into my imagination. My Mum bought me a guidebook as a memento and I obsessed over it for months afterwards. If I was dropped into a remote region of the Park, I'm sure I could still get back safely as a result of poring endlessly over those maps and descriptions. But it was this picture I dwelt upon above all. It hadn't seemed a big deal at the time, but that combination of raw power and natural beauty must have resonated deep.  It went on to become the first entry in a waterfall scrapbook, which I maintained for the next few years (I still have it!). The rest, as they say, is history.
16) Havasu Falls, USA, 90m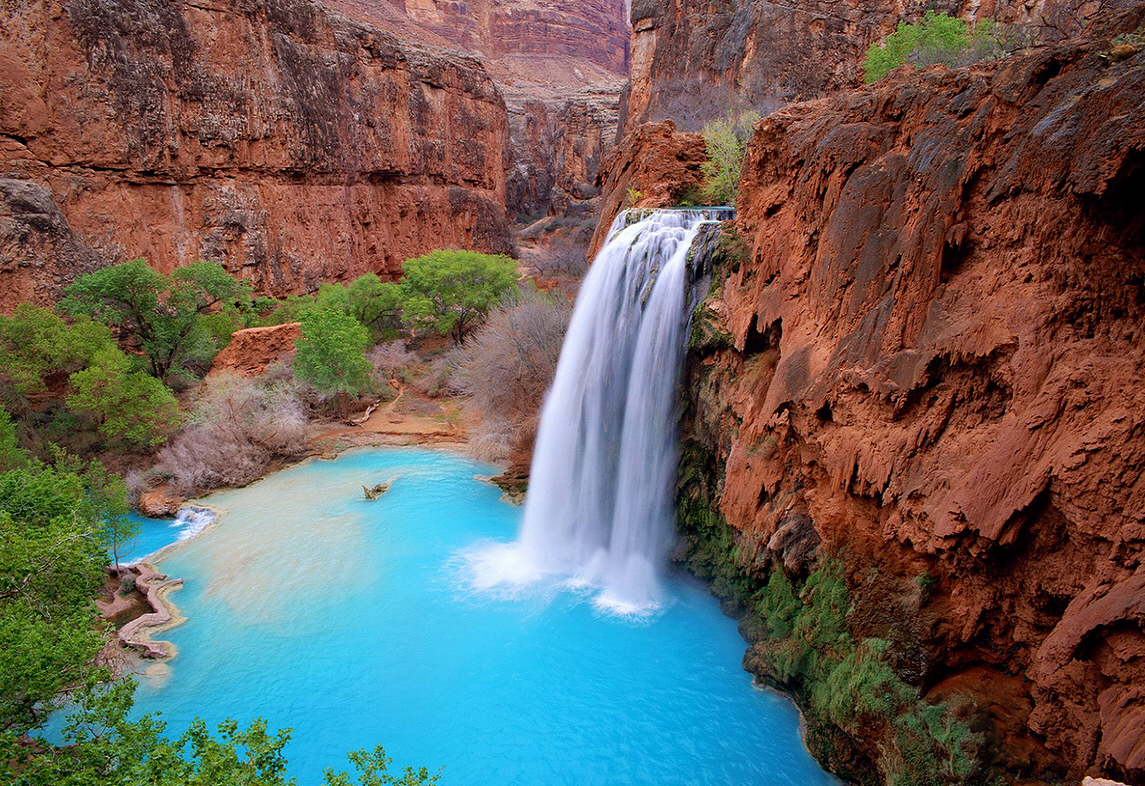 Not particularly tall or powerful. However, since reading an article in an old National Geographic as a kid about the Havasu Canyon – a remote side-street of the Grand Canyon –  it's lodged in my head as a Shangri-La. Through a narrow cleft, half-hidden in the desert and only accessible (at that time) by mule, the author traveled to this secret oasis, home to the Havasupai Indians and five fabulous waterfalls. This one's the centrepiece (although Mooney Falls comes very close!). When I was 8, there was no place I'd rather live.
15) Yosemite Falls, USA, 739m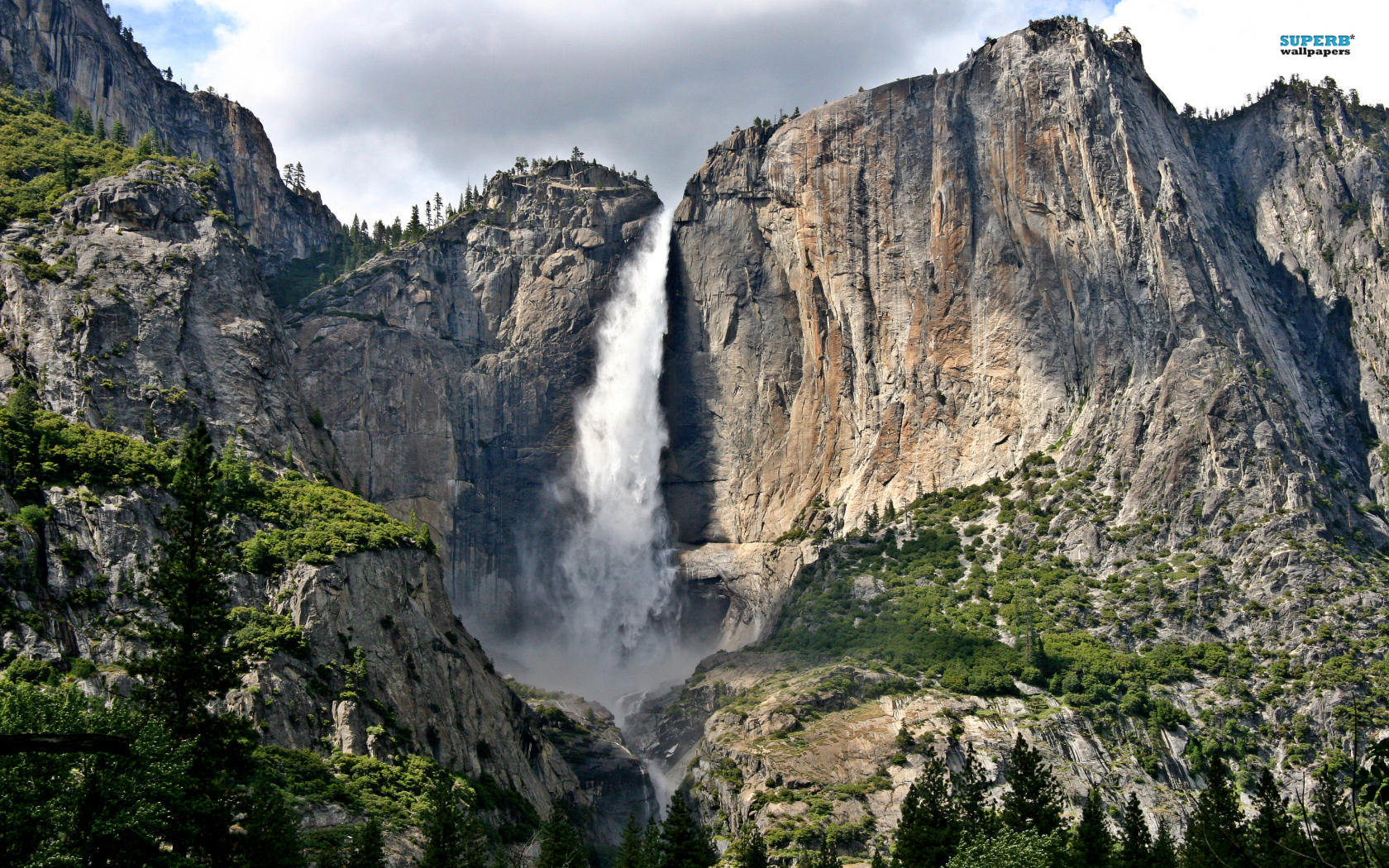 Highest waterfall in North America and sixth in the world rankings. It's a double drop but the upper fall – pictured here against the grandest mountain architecture thinkable – is inestimably superior. Whilst the lower fall is undeniably impressive, it's still difficult to imagine it flows from so majestic a predecessor. I shall visit this place one day, I feel it in my blood.
14) Virginia Falls, Canada, 96m 

The first of my two Canadian offerings. Over twice the height of Niagara, over 2 and half times wide as is it is tall, and way off in the wilderness. When I was a boy, I watched a BBC programme about a canoeing expedition up the South Nahanni River. One of the campsites was right where that tiny person is standing in the photo. I couldn't stop thinking about it afterwards. That sloping towerblock of water split by that colossal monolith. The roar. Still feel the same frisson now.
13) Hunlen Falls, Canada, 401m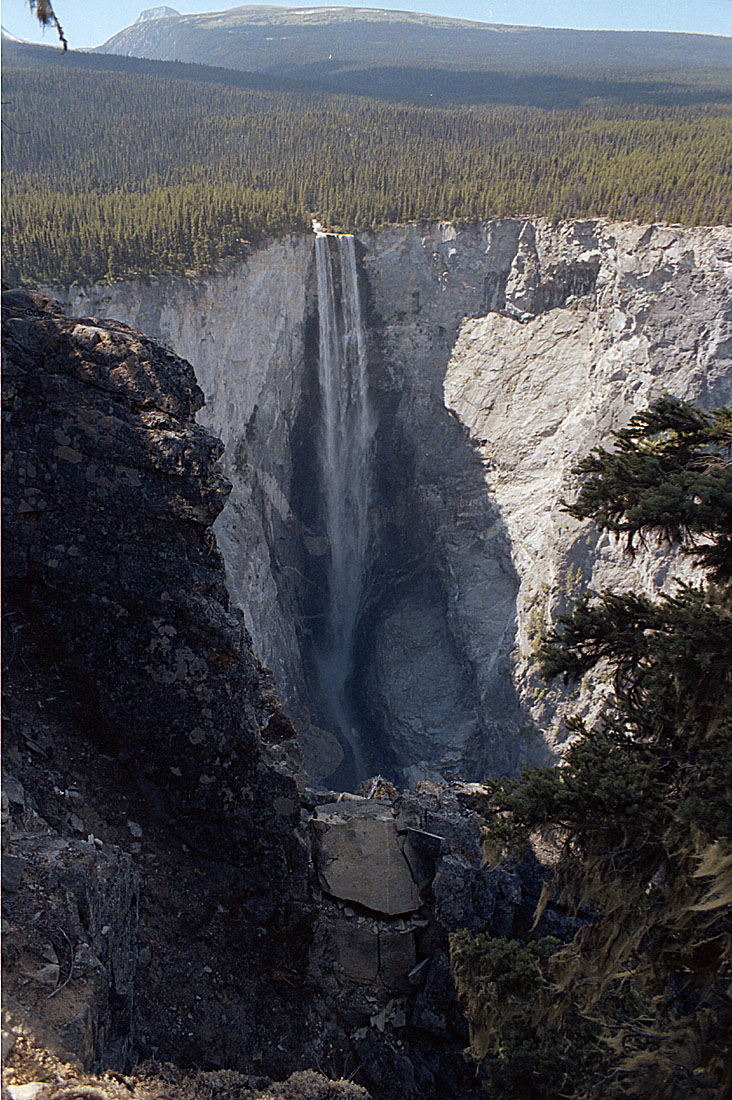 My second Canadian offering and the highest unbroken drop in the country. A true giant. Imagine walking through those minuscule pines along the cliff edge. Doesn't your tummy fizz? I've yearned to go here since coming across a photo in a schoolfriend's "Readers Digest Book of Natural Wonders" one lunch break. The falls can only be reached via a long trek or sea-plane to a nearby lake. Her inaccessibility seems entirely appropriate to me.
EUROPE
12) Falls of the Beich Burn, Scotland, 32m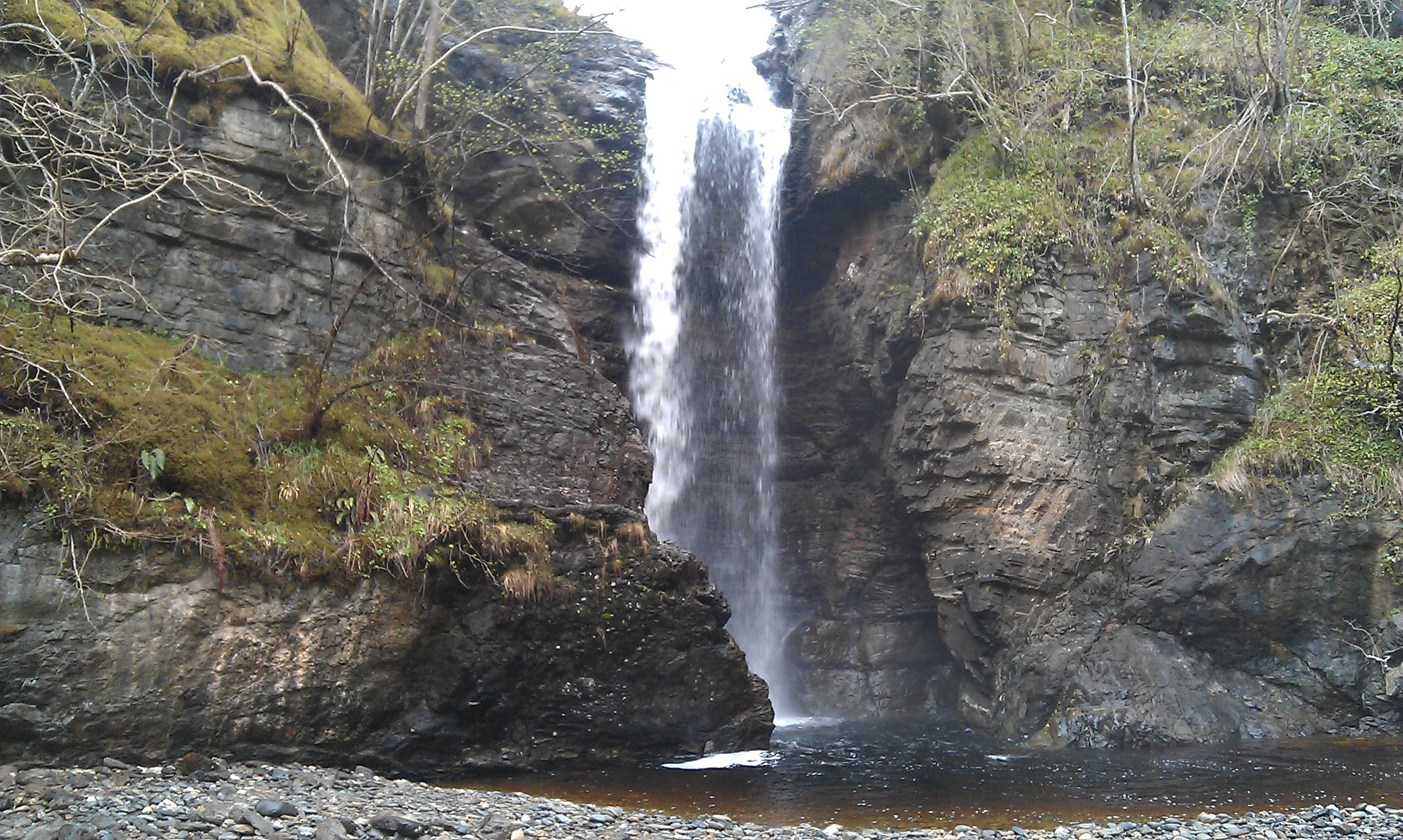 My favourite local waterfall and no less a contender. Once, an essential stop-off for the Victorian sightseer. Now, off the maps and a small battle to reach. She's situated in a gorge north of Loch Earn in a rich fragment of the aulde wildwood, with gnarled oak, red squirrels and a heady aroma of mushrooms and earth. The falls are achingly pretty: that diagonal throw of the mossy rocks, the secretive plunge pool, the little pebbly beach in front. Sigh. It feels like I'm the only person who ever visits her these days.
11) La Cascade de Sillan, France, 42m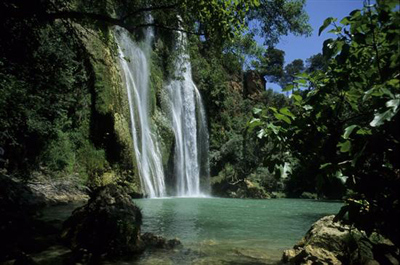 A slice of paradise among the hilltop olive groves and vineyards of the Haut Var. My better half and I stopped here en route from the Riviera to the Verdon Gorge some years back. We trudged through the summer heat to the viewpoint and then picked our way upstream through tangled woods to this spot, more Blue Lagoon than Provencal. The path had been busy, but we'd the swimming hole all to ourselves. Into those cool waters we slid. Oh! Feathery cascades falling into a turquoise pool over cliffs bedecked with ferns and flowers. It was so impossibly idyllic, the memory has since assumed the quality of a dream.
10) Skogafoss, Iceland, 60m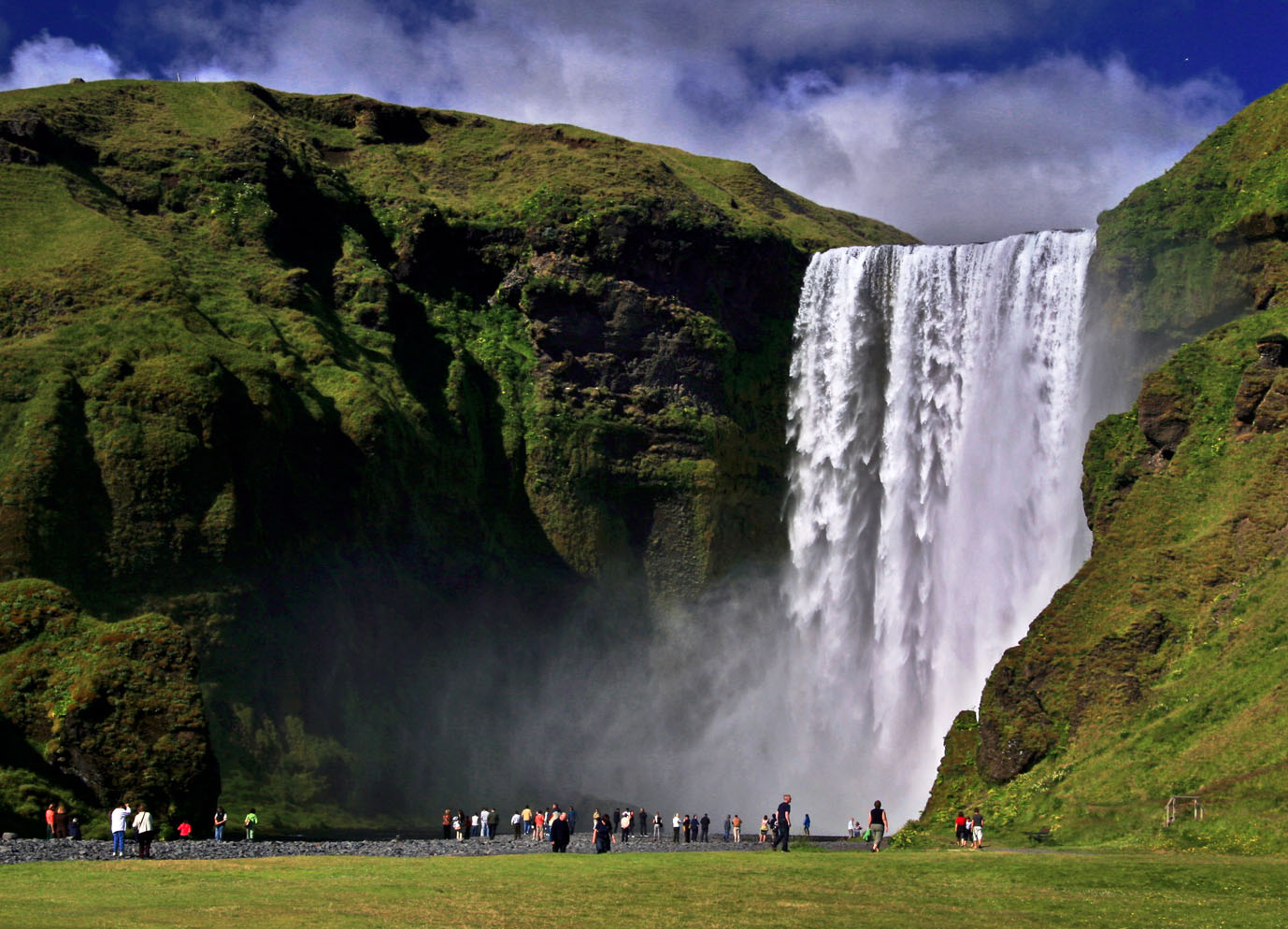 Probably, my favourite of the three Icelandic offerings. P&O used to have an advert which included a woman running naked across the grass towards Skogafoss accompanied by the question "what does that feel like?" I have done it, albeit clothed, till I was pummeled to a stop by wind and foam, and can confirm that it feels brilliant!!! (and that the legendary Viking horde in the cave behind is unreachable)
The setting isn't quite as wild as you'd imagine. Pulling back would reveal, rather incongruously, a couple of football pitches, a children's play park, a little village and the main road. It really doesn't matter though. The waterfall's perfect proportions (the Golden Rectangle?) and that oh-so-satisfying arrangement of white, green and blue, trump all. Every time I look at her picture, before or since, I yearn to be there.
9) Dettifoss, Iceland, 45m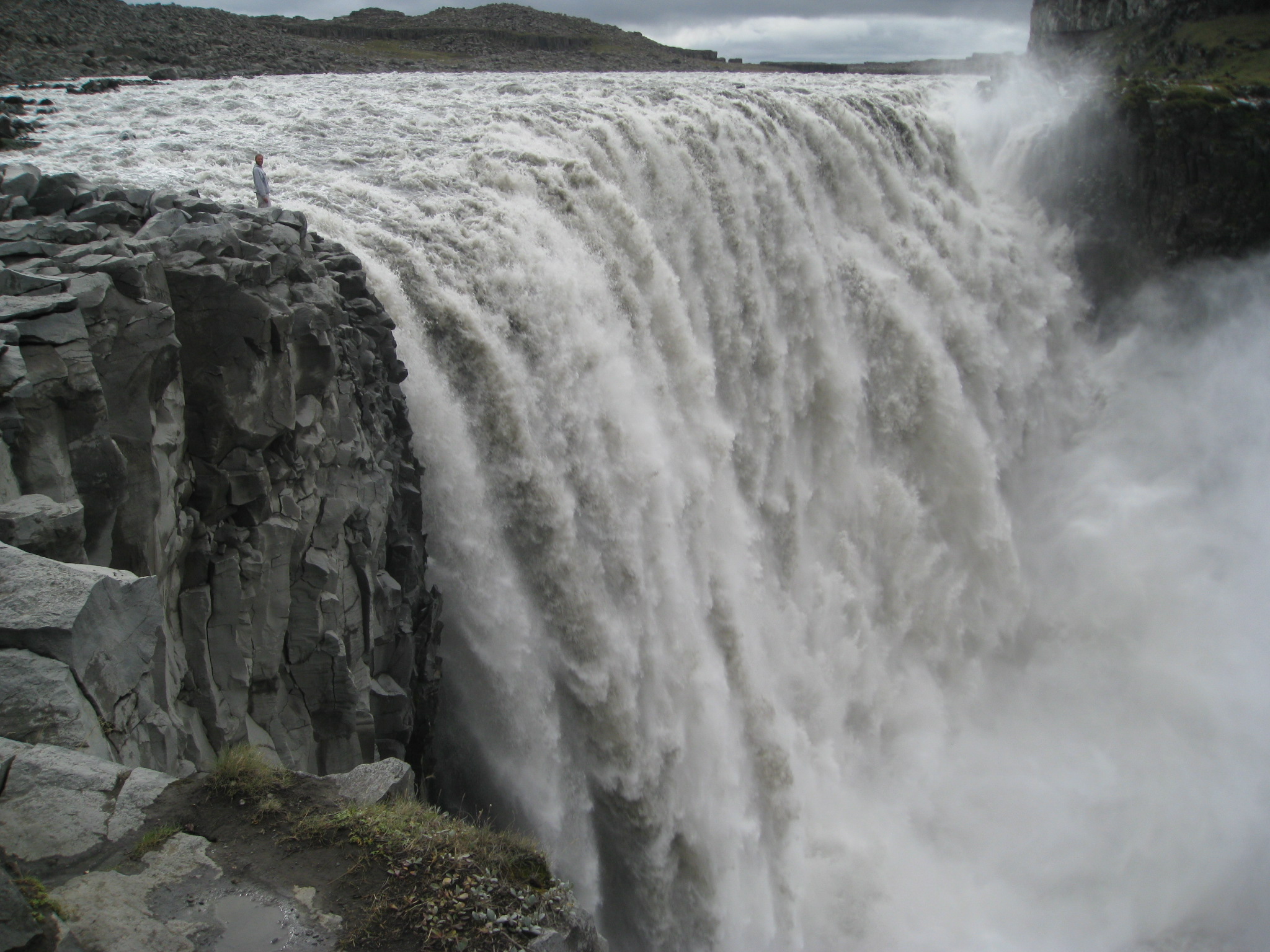 The second Icelandic classic: the most powerful cataract in Europe. Twice as wide as she is tall. Sci-fi movie geeks may recognise her from recent appearances in 'Oblivion' and, more notably, as the place the Architects seeded life on Earth in 'Prometheus'. I was never a big fan until I paid her a visit in the noughties and was utterly, and quite literally, blown away.  The volcanic surroundings really are primordial: harsh, jagged, almost entirely devoid of vegetation. The water wallops down into the abyss with the force and din of a rocket launching, concealing the canyon below in a boiling cauldron of mist.  I lay on my front right where that guy is standing for quite some time in sense-boggled bliss!
8) Haifoss, Iceland,  122m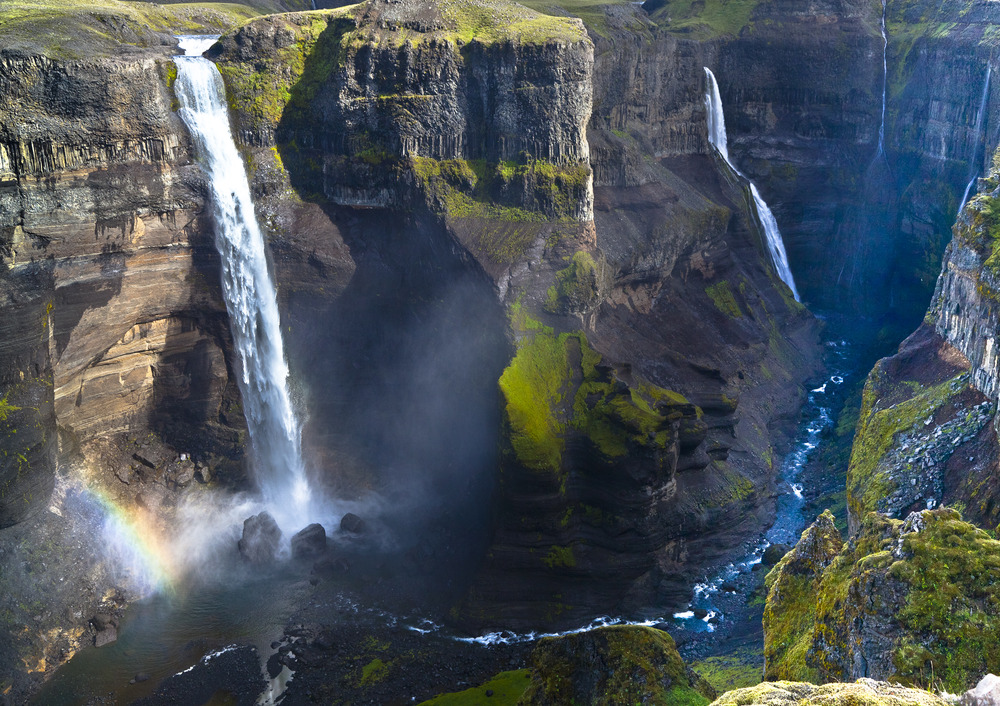 The last Icelander. The second tallest in the country and way superior to the tallest, Glymur. Her flow is so powerful, she maintains her outward angle of fire all the way down to those poor eternally-pounded boulders. The venue is straight out of a fantasy novel. Those sculpted escarpment walls and delightful sister falls, one of which is only marginally less huge. Unfortunately, only when I arrived in Iceland did I realise I needed a 4×4 to get within walking distance of Haifoss and so had to forgo my long-intended visit. I wrestle regret every time I see her picture.
Hope you enjoyed. See you next Friday for 5 (and a bit) South American classics!